"May your trails be crooked, winding, lonesome, dangerous, leading to the most amazing view. May your mountains rise into and above the clouds." -Edward Abbey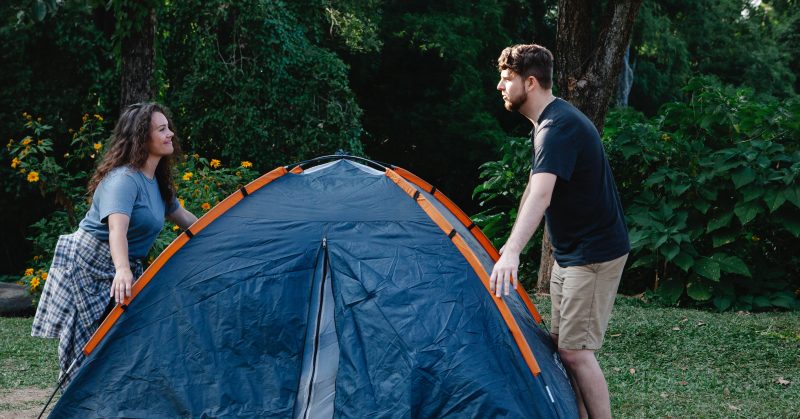 To uninitiated campers and novice adventurers, camping may seem like a daunting activity.
As we are so accustomed to the everyday conveniences of modern life, some of us cannot help but think that there is little to no desire to be had without them. That said, many of us would think that camping and roughing it out in the woods are activities exclusive to the most intrepid individuals. However, there is a certain charm in escaping a world wherein you are so perpetually connected. After all, when you go camping, you unplug and disconnect in order to connect to the things that matter most.
It is also a spectacular way to discover more about the world around you by exploring the great outdoors. More importantly, it is an opportunity to spend some undisturbed quality time with family and friends. Needless to say, it is a unique way to spend your weekend. Understandably, camping can feel a little daunting—particularly to newbies. To make the experience more enjoyable and memorable, below are the top tips to keep in mind:
GENERAL TIPS
1.) Purchasing your tent
Ensuring that you have a tent for your outdoor adventure is probably the most important thing you have to consider before leaving for your trip. While you may choose to bunk in with your other friends who have their own tent, it is nice to have your own. Keep in mind that tents come in all shapes and sizes, so it is imperative to choose one that suits your needs. If you wish to have a tent all to yourself, you may opt for Kovea's Riverside 1 Tent. But if you want a little more room to stretch out or have space to share, you may choose REI Kingdom's 6 with footprint Camping Tent.
2.) Check the weather forecast
Weather forecasts may not always be accurate, but checking it before leaving will give you an idea of what you should be prepared for.
3.) Plan for bad weather
As said above, the weather can be unpredictable. That said, it is always best to plan for the worst. Regardless of what the weather forecast may be, always be sure to pack waterproof clothing, plenty of warm layers, a warm hat, insect repellent, and sun protection.
4.) Plan activities in advance
Before leaving home, always check the campsite's website for things you can potentially do. In this way, you can schedule your days accordingly before you arrive.
5.) Always have a first aid kit
Hopefully, you will never need it, but in the event that you do, you will want to have one. Ensuring that you have the basics to clean and bandage is an invaluable necessity. This comes in handy during emergencies or when someone has an accident.
6.) You cannot be over-prepared
Packing light may be enticing, but sometimes it is better to be prepared. Have a personalized list of essentials to pack.
7.) Look out for sales
If you wish to save money on camping kits and equipment, be sure to watch out for sales to score some bargains.
8.) Have a packing list
You can find camping packing lists online. However, you may also choose to have a personalized one of your own. Just make sure you have all of the basics listed down.
9.) Bring adequate lighting
While campsites are generally lit, it can quickly get dark. That said, consider whether you wish to have a handheld torch or a headlight for trips to the bathroom. Also, do not forget to have lanterns to hang around so that the place is adequately lit for hanging out.
10.) Pack a portable charger
You are likely to run out of battery juice during your trip which you will need for snapping photos. That said, it is always a good idea to have a portable charger.
11.) Prioritize entertainment
To ensure everyone is entertained during your camping stint, bring board games, books, cards, and other outdoor games.
12.) Plan activities for kids
While you pitch up, it is best to keep kids entertained. Your older kids may help you set up, but the younger children need something to do to keep them occupied. Plan accordingly.
13.) Pack tables and chairs
Having a table and set of chairs will come in handy so you can enjoy your meals better and have a designated area for playing board and card games.
14.) Have your own toilet paper
There is no guarantee that your campsite can provide you with toilet paper. That said, be sure to always have your own roll.
15.) Reuse plastic bags
Your plastic bags will come in handy for trash collection. It is also an excellent way to keep your packed clothes dry.
16.) Pack your car in an orderly fashion
Anything that you may need to set up first should be packed last in the car to ensure that you can easily grab them when you arrive.
17.) Check campsite rules
Most campsites have a set of rules and guidelines that campers and other patrons are required to follow. For everyone's safety, be sure to read them prior to your trip.
18.) Keep an eye on your valuables
If you are camping at a public campsite, always keep an eye on your valuables. Be vigilant, as there are plenty of opportunistic people around.
19.) Borrow camping kits and equipment to get you started
If this is your first time, it is a good idea to borrow from friends or family before buying your own equipment. After all, you are still getting a feel for the great outdoors, so it is best if you hold buying camping equipment until you are sure that this is something you will regularly do.
20.) Respect the privacy of others
While you can strike friendly conversations with other campers, always know when to keep to yourself. Some may wish to socialize, but the rest may want to to keep to themselves.
21.) Do not be afraid to ask for help
Should there be anything, you feel unsure about, never hesitate to ask for help and assistance from the site staff or fellow campers. Everyone knows what it is like to start out, and they will be more than likely to extend help should they need it.
22.) Choose a campsite near home for your first camping trips
During your first outdoor excursion, it is always a good idea to choose a campsite near home. In this way, you can always make a quick return if you feel that you are not up to it or can easily go back to pick up anything you may have forgotten.
CAMP COOKING TIPS
23.) Never cook inside your tent
Always cook in an open space that is devoid of any obstructions that may cause a fire. Cooking inside your tent, next to it, or under an awning poses an extreme fire risk. Always take the safe route, and cook where it is safe and secure.
24.) Collect and dispose of food waste properly
Collect your waste and refuse responsibly. That said, discard them appropriately as well to prevent unnecessary damage to your surroundings.
25.) Plan meals before you go
Having an idea of what to cook while at camp ensures that you can pack your ingredients appropriately. More importantly, it makes the entire process easier.
26.) Have a wash area
Have a designated washing station next to your cooking area. In this way, you do not have to travel back and forth to the bathroom just to get your hands cleaned.
27.) Have plenty of snacks
You are going to get hungry, so it is best to come prepared. Pack plenty of snacks; you are going to need it.
28.) Take reusable water bottles
Avoid unnecessary plastic waste by having a designated reusable bottle for each person. Fill your bottles at the campsite, and take it with you for the day.
29.) Prep ingredients before leaving
Save time by preparing your ingredients before leaving for camp. That said, chop vegetables, crack eggs, and mix your pancake batter before leaving home to save time at the campsite.
30.) Test camping stoves before each trip
Check your cooking equipment before packing it to prevent any setbacks when you arrive at the campsite.
31.) Pack a large water container
Keep a large container of water by your pitch to limit the number of times you have to keep refilling your water bottles.
SLEEPING TIPS
32.) Have a good ground mat
Be sure to have sleeping mats or sleeping bags that are of excellent quality. To get a decent night of sleep, you need to choose one that makes you comfortable.
33.) Bring a comfy pillow
You do not necessarily need a camping pillow just to get comfortable at camp. If you are low on space, this can come in handy. Otherwise, your reliable comfy pillow will do.
34.) Think about tent flooring
While it is not necessary to add any additional flooring to your tent, it does wonders in elevating the comfort factor. Whether it may be floor pads, extra carpet, or fluffy blankets, if you feel like they give you extra comfort, go for it.
35.) Pack hot water bottles
If you are particularly sensitive to cold weather, it may be necessary to have a hot water bottle to tuck inside your sleeping bag. In this way, you can keep warm and prevent heat loss.
TENT TIPS
36.) Buy a bigger tent than the one you think you will need
While you can always buy a tent according to your needs, it is an excellent idea to purchase one that is bigger than the space you will actually need. This is because the extra area will serve as storage space for your gear. Also, it makes it easier to move inside your tent.
37.) Arrive during daylight
Pitching a tent in the dark is difficult and no fun—particularly if it is your first time. So, be sure to arrive during the daylight hours.
38.) Double-check where you are pitching your tent
Be sure to pitch your tent on even ground. Avoid slopes, rocks, stones, and any rubbish that may impact your comfort and damage your tent's groundsheet.
39.) Make sure to secure your tent pegs
It is best if none of your tent pegs are sticking out to ensure that no one trips over them. Also, it is a good idea to have reflective ropes so that you can quickly locate your tent after a nighttime trip to the bathroom.
40.) Adopt a no-shoe rule inside the tent
In this way, you can keep the interiors of your tent clean and dry. Muddy and wet shoes should be left at the entrance of your tent. If possible, just wear socks inside, or you can pack comfy bedroom slippers to wear inside the tent.
41.) Check your tent before packing it
If your tent has been in storage for a while, it is a good idea to take it out and set it up in the garden before leaving for your trip. In this way, you will know whether the tent is still in good condition for camping. Moreover, it allows first-timers to practice pitching it up.
42.) Zip your doors before pitching the tent
Pitch your tent with enough tension to ensure you can protect it from high winds. Do that with your tent doors zipped up as you may struggle to close them.
43.) Pack duct tape
Duct tapes are indispensable tools in temporarily mending a tear in your tent, repairing your glasses, fixing a leaking water bottle, or sealing food bags. You will never know when you may need them, so always have one in hand.
CLOTHING TIPS
44.) Have dry spares
Be sure to pack spare clothes for the trip just in case the ones you are wearing will get wet. Also, it might be a good idea to invest in a few good clothing items to make your camping trip more comfortable.
45.) Make sure your clothing laters are loose
Stay warm by layering your clothing. Be sure they are loose as circulation slows, and you will end up with cold limbs with tight layers.
46.) Store spare clothes in waterproof containers
Make sure your clothes are stored in waterproof boxes or bags so that you will always have a dry set of spare clothes.