Storage is non-negotiable for both the essentials and the 'extras.' You want to ensure that brought everything you will ever need, whether for a weekend or a month's camping trip. When we say camping essentials, one of the most important things is an efficient storage solution. Of course, if you can, you want to extend your vehicle's storage capacity. So what do you do? Invest in a camping storage box. Not just any storage box, though, but the best-in-class products that compliment your storage needs.
Best camping storage boxes to choose from
1) Thor Stackable Storage Box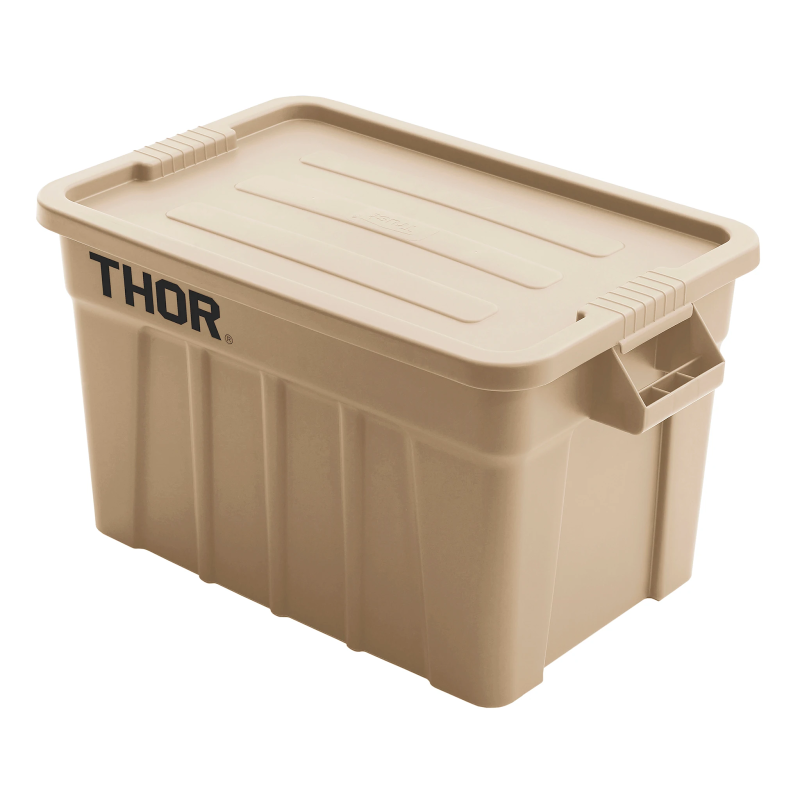 Thor is a brand celebrated for the durability of its storage line. Thor storage box has all the things you would want for a storage box—reliable, long-lasting, and multifunctional. 
The storage solution comes in 22L, 53L, and 75L capacities. The storage boxes have the same length and width but varying volumes via their height. Since the boxes are so sturdy—they are made from polyethylene, you need not worry about their stackability. They are designed to withstand even long trips.
All the camping storage boxes include a tight lid, making them the perfect choice for storing food and other camping supplies and tools. The lid can be fitted with a wooden plank available to buy, so the storage doubles as a table.
2) Front Runner Wolf Pack and Wolf Pack Pro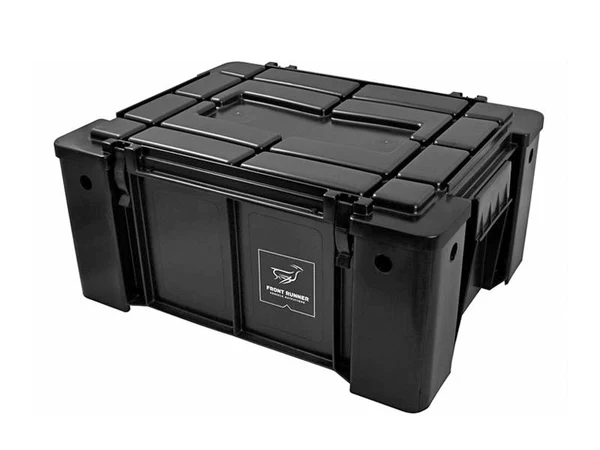 Front Runner Wolf Pack line is a permanent storage solution. Each camping storage box can be used by itself or stacked together to create a drawer system. 
Yes, while you cannot stack up a Wolf Pack with a Wolf Pack Pro, you can stack as many storage boxes as the weight allows. Extend the capabilities of each storage box by buying Front Runner Storage Box Foam Dividers or Flat Packs. The box can accommodate up to three Flat Packs as padded storage.
Old Wolf Pack models come with a high lid cover, which is very convenient if you bring bulky items such as bigger pots and pans on your next camping trip. Speaking of lids, these are clip-to-close, and they stack securely regardless of where you put them on the cargo bed. The workable sizing of the camping storage boxes avoids space wastage. This is important, more so when already working in a tight space.
The cargo bed is not the only place you can put Wolf Pack and Wolf Pack Pro. You can mount them in the roof rack. If you are rocking a Front Runner rack, there are mounting brackets that you can use to attach the boxes. Yes, these are specifically designed as outdoor storage.
What's more, Wolf Pack Pro is water and dust-resistant. Wolf Pack Pro is IP66 rated, which means it has excellent sealing effectiveness. No dust nor moisture could penetrate the inside of the box. You are assured that your things are protected from the elements—even when submerged in water.
One of the most durable storage solutions on the market today, Front Runner Wolf Pack and Wolf Pack Pro, are made from high-density polyethylene (HDPE) plastic. Despite their strength, the storage boxes are lightweight, so you need not worry about the added weight. Each box is built with integrated grips for easy carrying.
3) Mobi Garden Folding Storage Box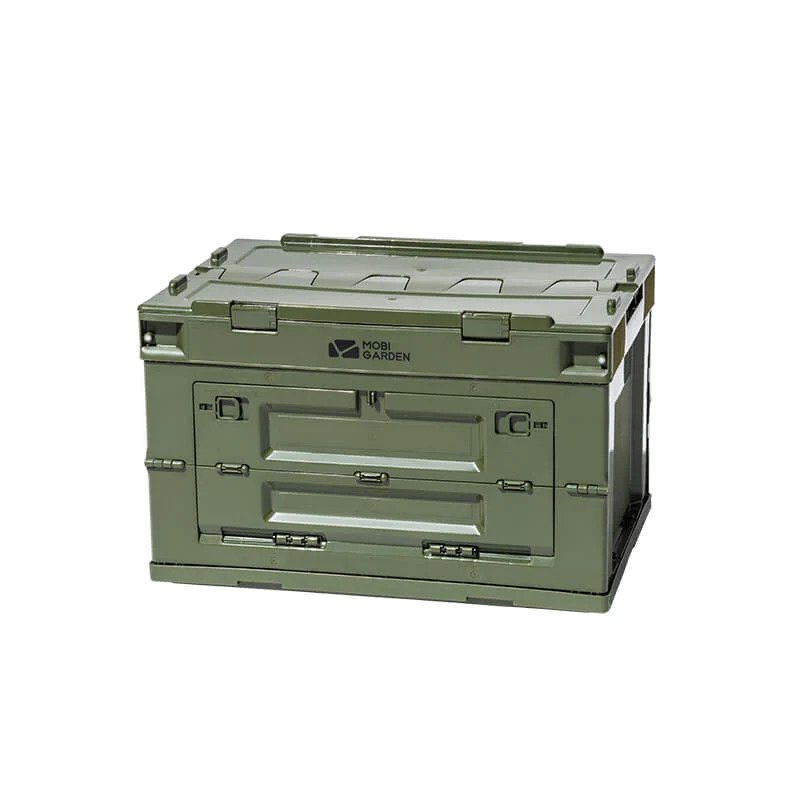 Mobi Garden heavy-duty foldable storage boxes are perfect for multi-day camping. Its unique double side door design makes putting in and taking out items more accessible. It comes in 20L, 50L, and 80L, but Mobi Garden storage boxes do not take up much space yet save up to 70% of space.
The storage boxes are also made from food-grade PP material, which means they are safe, lightweight, and strong. Such material has low water absorptions, which helps in making items stay dry. It also resists chemicals.
The storage boxes can be stacked up to five stories. They can also be used as a table.
4) Rubbermaid ActionPacker Storage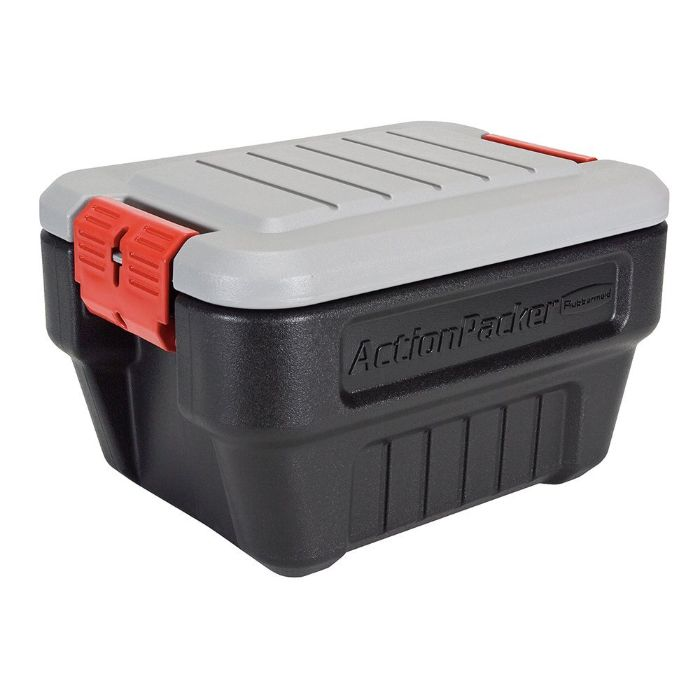 Rubbermaid storage boxes come in 8 gal, 35 gal, and 48 gal sizes. All durable, lightweight, and weatherproof. With their construction, they are expected to withstand years of use despite being exposed to abrupt temperature changes. Additionally, they have a lifetime warranty, making them perfect for camping.
Each storage container has a detachable double-walled lid that stays tightly with the handles on the sides. Rest assured that the contents are well-protected partly due to the grooved surface that repels and prevents water from pooling on the lids. Latches are lockable for extra security, though locks are sold separately. Using a bungee is also highly recommended to keep the contents where they should be.
Tips when buying camping storage
Yes, storage is an absolute necessity when camping. But you may want to take heed of these practical tips and hacks.
Only buy storage that you have room for. Otherwise, it will become a storage problem instead of a storage solution.

Consider its use. Before investing in a camping storage system, consider carefully what use each storage is intended for. You will need different storage for food, cooking equipment, utensils, etc.

Think multipurpose. Invest in a storage system that has dual functions, such as a box that can be a seat or table. You can maximize the cost per use when using storage with dual functionality.

Invest in quality. It pays to know the nitty-gritty of what you are paying for. More features may mean higher prices, but remember that it all boils down to the utility and lifetime of the product.
Even if you have already invested in the best camping storage boxes for your need, it helps to get creative with them. Whichever works for you, having a particular organization and storage system allows you to enjoy the outdoors better.