One of the best aspects of the entire camping experience is al fresco dining—and cooking. After all, there is nothing quite like the feeling of getting to enjoy your meals amid nature or by the campfire.
However, for a successful camp cookout and dining experience, you must have all the cooking essentials packed for your trip. In this way, you can still create all of your kitchen masterpieces and epicurean offers in the wilderness.
Must-have camping cooking equipment for the ultimate cookout
1) Camp stove
You cannot have a cookout without a camp stove. Camp stoves are essential for heating food or boiling water during your camping trip. You can opt to have a single burner for small meals or a dual one to prepare more elaborate meals. Camping stoves are compact, lightweight, and portable, so you can easily pack them inside the car.
An excellent camping stove that you can bring to your next camping trip is the Super Kalan burner. It already comes with an LPG attached, so it is convenient and practical as well. Additionally, with a Super Kalan burner, you do not need to buy fuel or a burner as the burner and fuel come with the Super Kalan itself.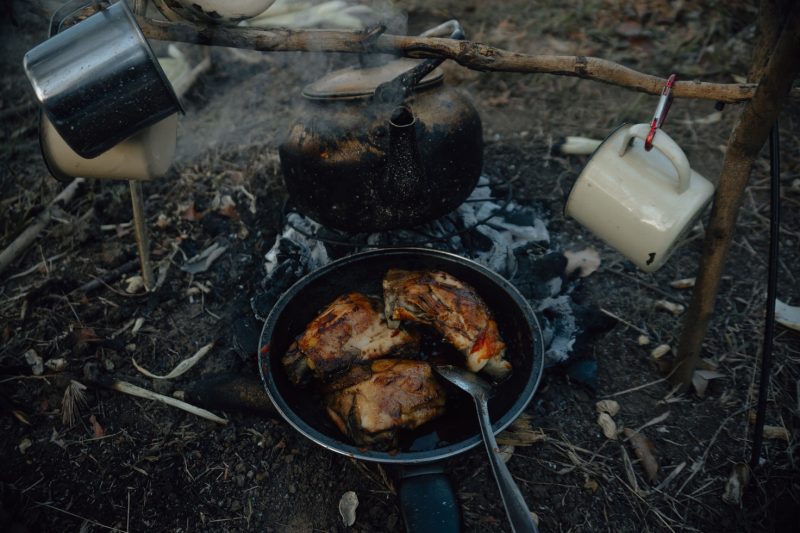 2) Cookware
Most campers prefer bringing their favorite cast iron along for their camping trip. This is because cast irons are generally more durable and flexible. Moreover, cast irons are great for heat retention and dispersion. For your camping cookout, be sure to pack a cast iron skillet or dutch oven with you for fantastic meals. In this way, you can cook meat, reheat the soup and do so much more. If both are unavailable, take a stainless steel pot that is a good size for your meals with you.
3) Reusable dinnerware
To be more sustainable, pack reusable plates, cups, and plastic utensils with you instead of paper and plastic dinnerware. That said, invest in quality dinnerware and always adhere to the camping code of leaving no trace behind. Using reusable dinnerware may require a little effort on the cleanup as you would need to wash them, but it would save you money in the long run.
4) Camping kettle
At some point during your camping trip, you are going to need hot water. Whether it is for coffee, washing up, making a pot noodle, or cleaning up, be sure to pack a camping kettle with you.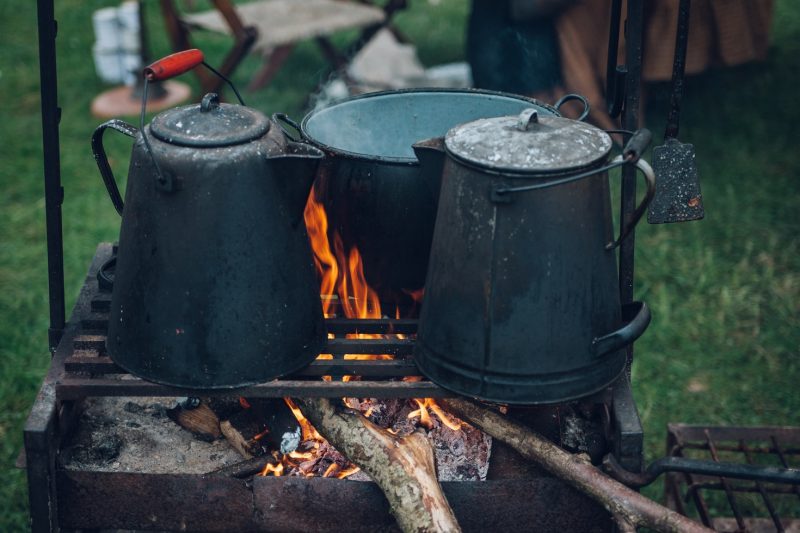 5) Collapsible water container
If you wish to make meals such as pasta, rice, or potatoes, you will need water. That said, be sure to pack a water container with you to use at the campsite. Fill up your supply of water at your campsite's tap and have it ready for your meals. Choose the collapsible kind to save space and make room for other camping gear and equipment.
6) Cooking utensils
To create your kitchen masterpieces, be sure you do not fall short of packing the most common utensils used when cooking. Some of the cooking utensils you need are a slotted spoon, ladle, cheese grater, bottle opener, tin opener, a pair of scissors, colander, and of course, a spatula. Of course, you should not forget to bring a couple of sharp knives with protective sheaths and a chopping board with you.
7) Cooler
Invest in a decent-sized cooler for your beverages and cold items that can carry anywhere between 50-70 liters. Coolers are great for storing food—including the leftover camping food, which you can reheat for breakfast the day after.