With long weekends and extended holidays peppered throughout the year, Filipinos have been given more than enough time to plan little vacations and getaways here and there.
Along with this is the ever-increasing number of unique and personalized AirBnb rentals which serve as cheaper alternatives to hotel rooms and lodging accommodations. As a result, Filipinos have so gotten used to the idea of staycations that many of us would spend the long weekends and holidays cooped up at home or in a swanky rented condo unit. After all, it is kind of hard to say no to an excellent deal where AirBnb rentals are only a fraction of the price of a standard hotel room.
However, with a bountiful and beautiful country such as the Philippines, it would be a shame to spend your downtime staying indoors. With more than 7,107 islands comprising the country, it would take you a lifetime before you can travel to each of those. More importantly, you always have something to add to your travel bucket list insomuch that you will never run out of destination ideas. However, before we start venturing to the neighboring regions, let us start with something a little closer to home and try the campsites near Manila.
REASONS TO GO CAMPING
1.)
You are much closer to nature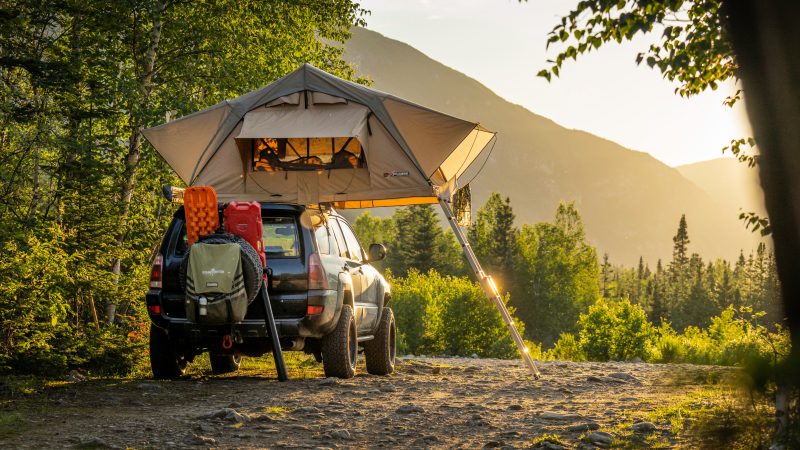 Campsites are typically situated amidst thick copses of trees and vegetation which resultantly gives you the opportunity to be as close as you can be to some of the most naturally beautiful places on earth. Incidentally, most campsites are located near natural attractions such as lakes, rivers, waterfalls, or mountain ranges making for some splendid views.
2.)
Disconnect to connect
Campgrounds are located deep in the forest that there is little to no chance of having a Wi-Fi or even cell signal. In this regard, you and your camping companions can bond and connect on a deeper level.
3.)
An avenue for self-discovery
While there is a myriad of ways for self-discovery, camping is the most famous one yet. Whether you are alone or in a group, camping is an avenue for introspection. As a result, you will formulate and digest realizations that you may not have had the chance to while in the city.
4.)
You will realize that you can live with even the barest essentials
One of the great things about camping is that it makes you realize how little you can live with. After all, the point of camping is to rough it out in the woods and make do with as little as you can. Doing away with modern conveniences and going back to the barest necessities would make you realize that you do not need much in order to survive which in turn, gives you a sense of accomplishment in that awareness.
5.)
It is affordable
While indeed, there are plenty of affordable rentals, staying cooped indoors does not provide the kind of experience roughing the outdoors does. More importantly, camping gives you the opportunity to explore new places without even having to book a ticket. In this regard, one might say that camping is the cheapest way to travel.
CAMPSITES NEAR MANILA
1.)
WK Forest Reserve and Campgrounds (Sta. Ines, Tanay, Rizal)
 Travel time: An hour and a half away from the city
Located approximately an hour and a half away from Manila is a relatively new campsite called WK Forest Reserve and Campgrounds. A favorite among 4X4, the road to the campsite can only be traversed by 4X4 vehicles, motorbikes, or hiking. Considering its distance from the city of Tanay, the campsite offers a private and secure place to camp. While traversing the campsite might take a bit of a hike (if you are not driving a 4X4 or a motorcycle), the general peace and scenic views of the area are well worth the walk. Check out their page for upcoming camping and astrophotography events.
2.)
Quest Adventure Camp  (Pantay Quatro, Sitio Buhangin, Teresa, Rizal)
 Travel time: Two hours away from the city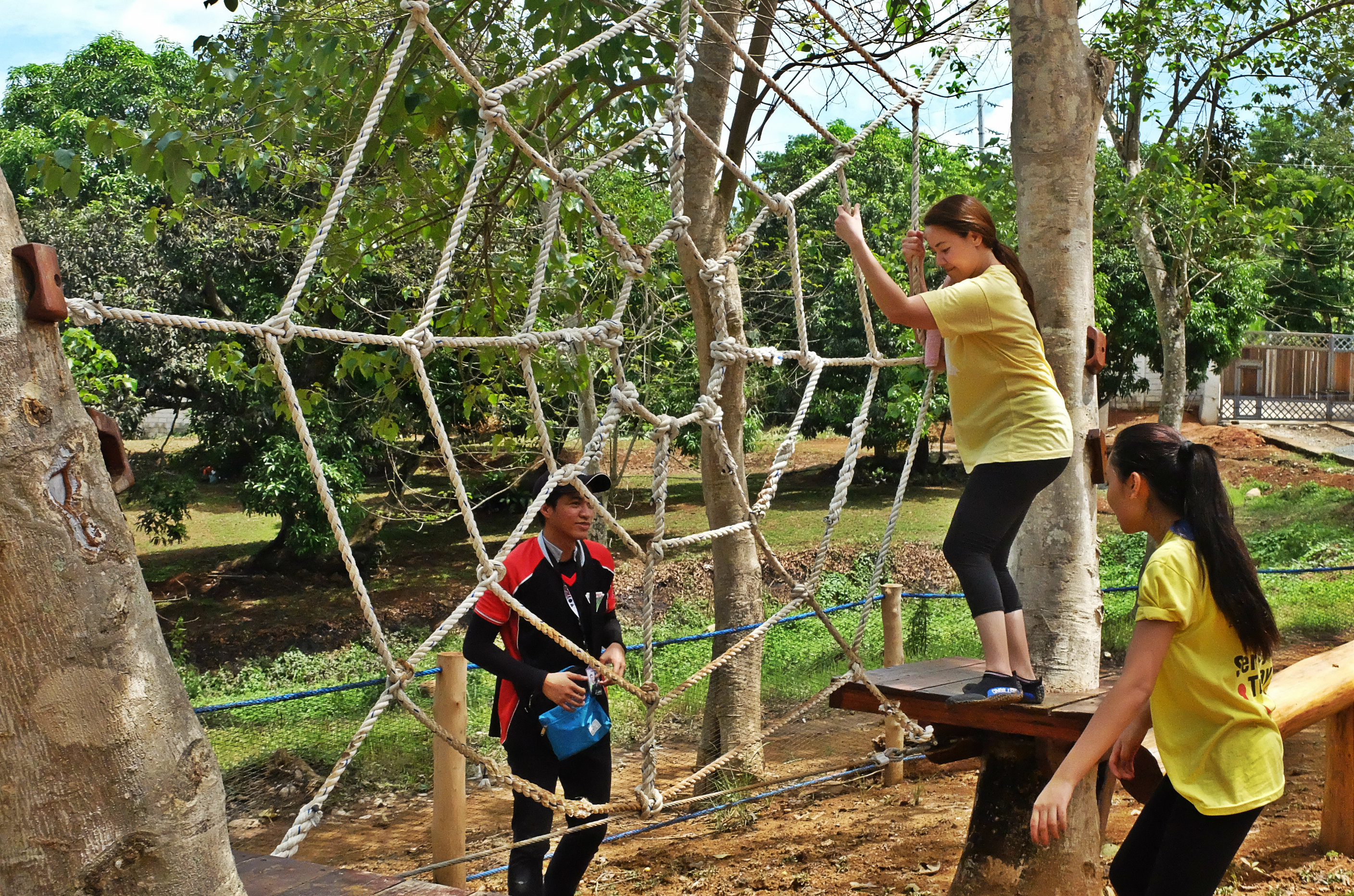 For individuals who are still trying to get the general feel of camping, you might want to try something a little less extreme such as glamping. Today, glamping is becoming more and more popular among travelers—and with good reason. Glamping offers the unique opportunity to indulge your adventurous side without having to compromise modern conveniences such as a proper bed and a clean bathroom. To keep ahead of the competition, some glampsites take it up a notch and offer other fun activities for their guests. Quest Adventure Glampsite is one such glampsite where you can enjoy exhilarating and adrenaline activities by day and sitting out by the bonfire at night.
3.)
Mount Purro Nature Reserve (Barangay Calawis, Antipolo, Rizal)
 Travel Time: Two hours away from the city
Mount Purro Nature Reserve has one goal in mind: For its guests to commune with nature within its well-maintained activity areas (including the large bonfire space). A family-run eco-park, Mount Purro Nature Reserve encourages its guests to connect with nature as well as their companions by toasting marshmallows, bonfire storytelling, or having a jam session.
4.)
Fortune Island (Fortune Island, Nasugbu, Batangas)
 Travel Time: Three hours away from Manila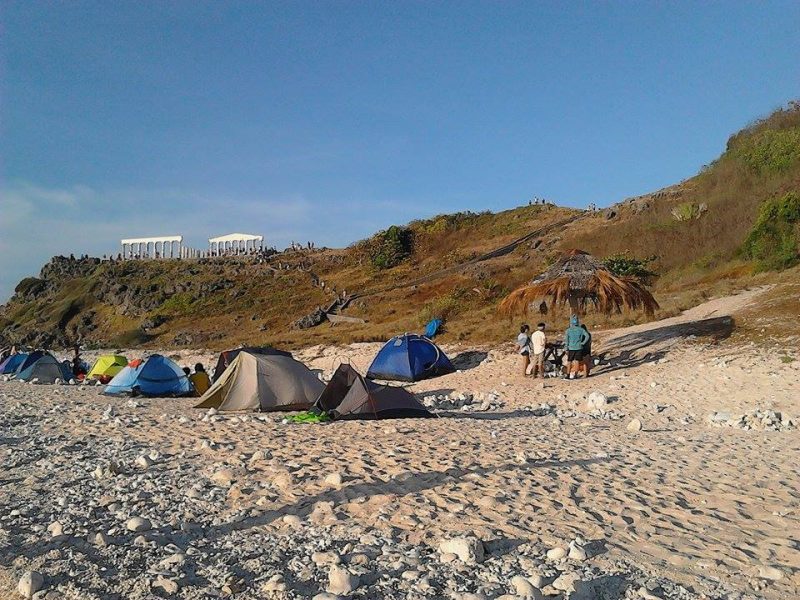 Fortune Island is an intriguing campsite mainly because it compels campers to truly go back to the basics. The island does not come with any accommodations at all which means that campers will have to bring their own tents and rations. While that may mean double the effort for some, camping on the island is worth it. After all, this hauntingly beautiful abandoned resort overlooks the coast of Nasugbu, Batangas making for some spectacular daytime and nighttime views.
5.)
Springs Mountain Park (KM56 Marcos Highway, Sitio Mayagay 2, Barangay Cuyambay, Tanay, Rizal)
 Travel Time: Two hours away from the city
Campers who are looking for campsites sans the long drive will find Spring Mountain Park ideal and accessible. Just a two-hour drive away from Manila, this private park offers a variety of amenities and activities for guests to enjoy. By nightfall, campers can even enjoy an evening bonfire. Just simply ask the staff to arrange it for you so that all you would need to do is sit around the bonfire and share stories while toasting marshmallows. 
Plan your year ahead by plotting out dates for camping during the holidays and long weekends. Fortunately, you do not need to go very far for your camping expeditions. With the list above, you now have a curated list of camping sites near the city for your next camping trip.