Camping has always been associated with relaxing amidst verdant surroundings, lush mountainsides and cool fresh air.
When people think of camping, most of them tend to envision an exodus from their homes to live by the mountainside for a few days. They think of long mountain hikes, forest baths and sitting by the campfire and listening to the peaceful sounds made by mountain birds. In a tropical country such as the Philippines, however, where the weather is quite humid for most of the year, it would be quite impossible not to think about camping by the beach. In the Philippines, campers are afforded quite a myriad of options that do not limit them to camping solely by the mountainsides. In fact, outdoor enthusiasts with a penchant for an exotic travel destination will find that the Philippines offers various landscapes filled with diverse activities–including mountainside and beach camping. The archipelago offers pretty much everything from trekking through the tropical rain forest, bird watching, mountain climbing to camping on the beach. Beach camping, albeit a common weekend activity to most individuals, is rather prevalent in the country.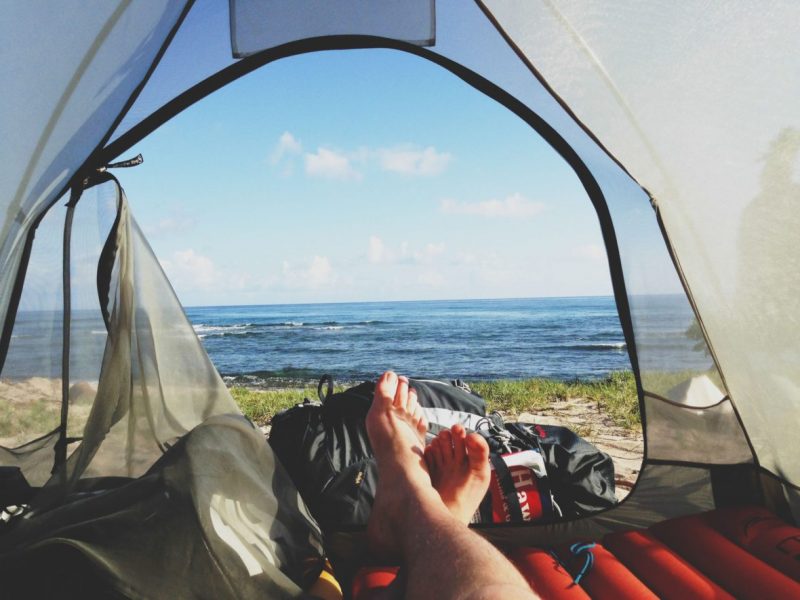 In a country such as the Philippines where the beaches are pristine and the sand powdery white, it would be inevitable for some campers to favor the tropical milieu over the typical mountain range camping setting–especially during the summer season. Below is a curated list of the most beautiful beach camps and beaches that allow you to camp overnight in the country. However, before we begin enumerating them one by one, this article has listed all the reasons why you should go beach camping.
COMPELLING REASONS TO GO BEACH CAMPING
1.) Avoid pricey hotels and crowds
Hotels typically cost you at least a thousand pesos a night. High-end hotels and five-star resorts are going to set you back by even more. Camping by the beach costs a fraction of what a hotel would typically charge you a night. Plus, you can have your very own beach sans the hordes of tourists crowding on your space. While you might have to prepare your own meals and do cleanups yourself, it is a small compromise that ensures you have the beach all to yourself–or at least with fewer people.
2.) Fall asleep listening to the crashing waves
One of the best things about camping by the beach is having the sea sing you a lullaby to sleep. In fact, there is nothing more peaceful than hearing the waves crash at night insomuch that some people would actually go as far as to buy sound machines just to have waves lull them to sleep. Beach camping allows you to have the real thing while you sleep with salt in the air and under a canopy of twinkling stars.
3.) Exfoliate your skin
You spend quite a lot of money for a weekend at the spa to exfoliate your skin, but a few days living at the beach virtually achieves the same effect. The sand may get everywhere, sure. But while the gritty feeling might be a little annoying, it will keep your skin feeling soft even for weeks after.
4.) Eat fresh seafood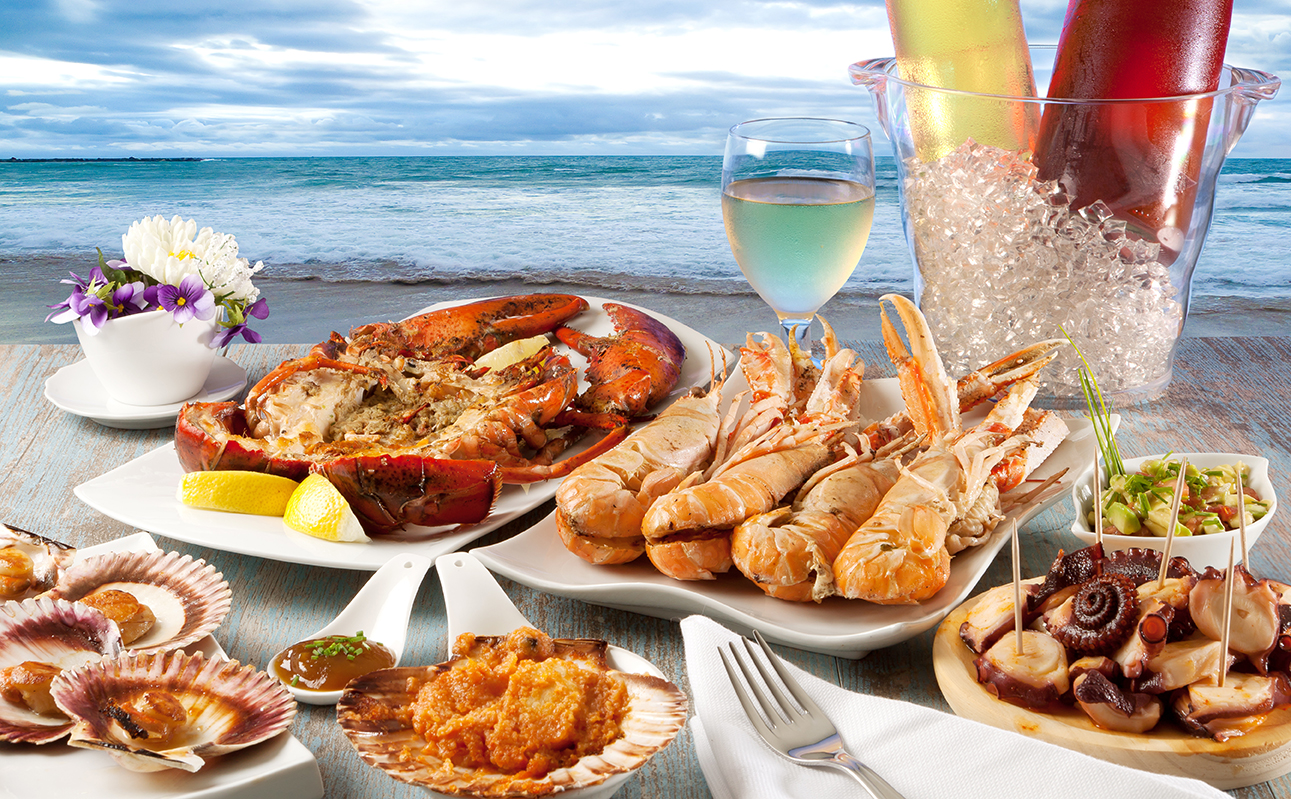 Camping for a few days at the beach is an avenue for you to level up your camp meals. Avoid restaurants and make mealtimes an interesting affair either by catching your food or heading over to the market. Get into the real camping spirit and cook these yourself over an open flame. Achieving that feat alone not only leaves you satisfied, but gives you a sense of accomplishment in preparing your own meals as well.
5.) Witness some of the most beautiful sunrises and sunsets
Nothing compares to the breathtaking view of sunsets and sunrises at the beach. Sure, while any sunrise or sunset may be beautiful, it pales in comparison to the cascading sun's rays casting its light over the vast expanse of water.
ESSENTIAL THINGS TO PACK FOR BEACH CAMPING
a.) Water-Resistant Duffels
If you wish to keep your stuff dry, invest in some quality water-resistant duffel bags. Beaches are wet and while rain is pretty much a concern when you are camping anywhere, wet sand or a strong tide when you are camping on the beach can leave you and your personal effects soaked. Have a water-resistant bag to keep your clothes dry and keep your gear.
b.) Quick-drying Towels
Beach camping means that you will be swimming, surfing or snorkeling at some point during your stay. In this regard, you would need something to dry you off after your excursion. However, in lieu of beach towels that would take some time to dry, pack travel towels that take up less space and are quick-drying.
c.) Compression Bags
You are inevitably going to have some wet stuff such as your swimsuit or other wet articles of clothing. Keep your stuff dry by packing compression bags to ensure your wet stuff gets separated from the dry ones.
d.) Sun Protection   
The sun can get particularly harsh while on the beach. If you do not want the risk of developing a sunburn, never leave home without sunscreen, aloe vera and SPF lip balm. Be sure to apply these minutes before you are in the sun and reapply every hour or so after sweating or swimming to ensure you are adequately protected.
THE BEST BEACH CAMPS IN THE PHILIPPINES
1.) Anawangin Cove (San Antonio, Zambales)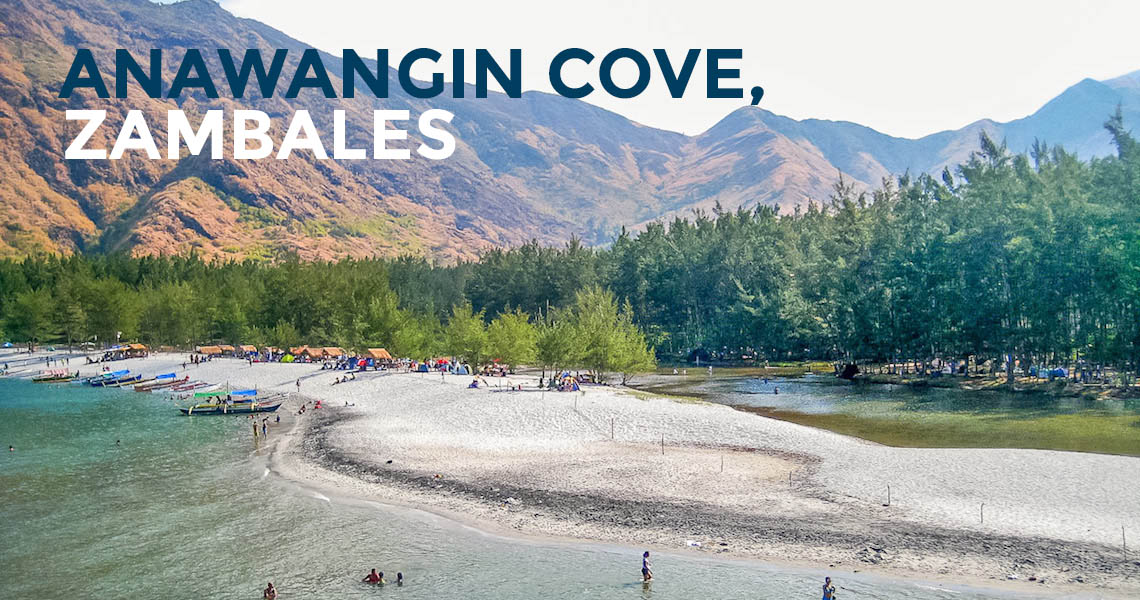 If you ever find yourself in Zambales, consider camping for a few days in Anwangin Cove–one of the many coves in the town of San Antonio. It is the perfect place to camp as the waters are clear making it perfect for swimming and snorkeling with its shores lined with grey sand. Getting to the cove can be done either by trekking Mt. Pundaquit or taking a boat. Once you have arrived and settled in, pitch up your tent at the campsite lined with tall agoho trees if you wish to give your camping trip that distinct touch of nature.
GCQ GUIDELINES FOR TRAVEL:
Residents traveling within OLONGAPO and ZAMBALES (Subic to Sta. Cruz):
– Medical Certificate
– PNP Travel Pass
Residents leaving or entering OLONGAPO and ZAMBALES (Subic to Sta. Cruz)
– Need to undergo a Rapid Diagnostic Test (RDT) or Swab Test (RT-PCR)
Residents working for authorized industries in OLONGAPO and ZAMBALES:
– Company ID, or
– Certificate of Employment
Authorized Persons Outside Residence (APOR) or those with work outside of OLONGAPO and ZAMBALES:
– Need to undergo a Rapid Diagnostic Test (RDT) or Swab Test (RT-PCR)
2.) Burot Beach (Calatagan, Batangas)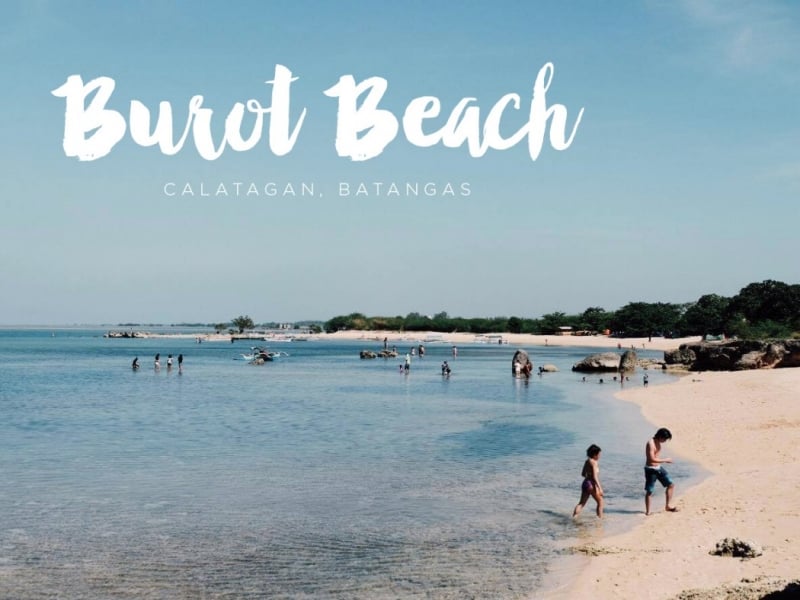 Known as one of the best beaches in Calatagan, Batangas, Burot Beach is known for its subtle charm and its quite privacy. The water is mostly shallow with no waves and only ripples from people who wish to wade in. If you are expecting powdery white sand, you might be a little disappointed as the sand is more beige and cream than white. Still, that should not deter you from the beauty of the beach. As it is one of the few beaches in Batangas that have remained untouched, there are no permanent structures save for a slew of small sari-sari stores. To experience the beauty of Burot beach fully, stay overnight and pitch up a tent.
GCQ GUIDELINES FOR TRAVEL:
A negative RT-PCR result within 48 hours is required before arriving in Batangas.
People from nearby towns must present a medical certificate which shows that they don't have any symptoms and indicates that they are fit to travel.
They must book in hotels and resorts that have a Certificate of Authority to Operate (CAO) or Provisional Certificate of Authority to Operate (PCAO). These are given by the Department of Tourism (DOT) to them to certify that they are now allowed to operate and following health protocols. Make sure that your booking is required.
3.) El Dionisio Paraiso (Puerto Galera)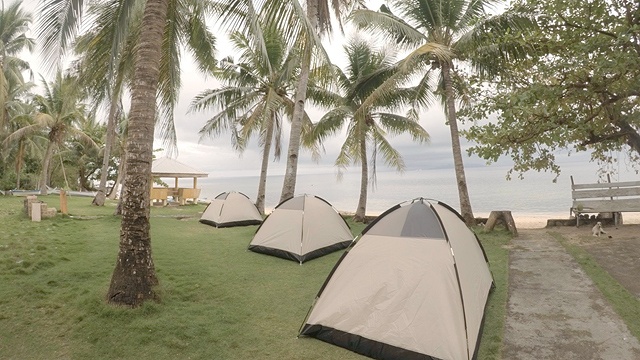 Known as the poor man's Boracay, Puerto Galera has everything for you–whether you want to swim, dive or just laze under the sun at the beach. However, if you wish to go beach camping, El Dionisio Paraiso White Beach Resort and Camping Site is the recommended place. You can bring your own tent or rent them for PHP500 (good for two people) or PHP1000 for four people. If you wish to enjoy other activities, they also have kayaks for rent. You can also use their grill and bathrooms as well.
GCQ GUIDELINES FOR TRAVEL:
Entry of Tourist to Puerto Galera is POINT TO POINT. Transit of Tourist must be continuous and unhampered from point of origin to point of destination to avoid contact and minimize exposure. The Calapan port shall be used as entry/exit port for local/foreign tourist travelling to Puerto Galera with private vehicle.
All Foreign/local tourist must prepare a copy of their Negative result of RT-PCR test or nasopharyngeal swab valid for 24 hours upon release including the date of travel need individual test. Laboratory should be accredited by the DOH.
Berberabe Port in Batangas is the only authorized port of origin to Puerto Galera via Muelle Port.
Muelle Port in Barangay Poblacion [is the only authorized port of entry from Berberabe Port.
Water Taxi is the only sea vessel allowed to carry tourists from Berberabe Port to Muelle Port.
Water Taxi is only allowed to carry 50% of its total carrying capacity.
All leisure boats: snorkeling guide boats and island tour boats shall be at 50% operational capacity.
Puerto Galera Travel Policy as stated of our Municipal Ordinance No. 015-2020 shall STRICTLY be enforced. Prior to travel, all local/foreign tourists must register to the Online Tourist Arrival Registration Application to fill out the Passenger Monitoring Form to generate the unique Travel Registration Number need individual registration in 24 hours. You can download from Play Store the Apps of Tourist Registration (Puerto Galera).
Minimum Public Health Standard not limited to wearing of Face mask, face shield, and Physical Distancing must be strictly observed.
Persons below twenty-one (21) and who are sixty (60) years old and above, and those with immunodeficiency, comorbidity, or other health risks not allowed to travel.
Make 3 copies each individual of the RT-PCR Test or Nasopharyngeal swab and Travel Registration Number.
Known as one of the most riveting destinations in the Philippines, there is definitely a lot to be expected from the Hundred Islands National Park. With the number of islands here, it is inevitable for visitors to explore a myriad of white sand beaches, caves and cliffs. For rich and diverse marine life, Alaminos city is where you should go. For beach camping, however, you can choose among the Children's Islands, Marcos Island, Quezon Island or Governor's Island. Either of these islands are great places to camp setting you back by only PHP 200 to pitch a tent. Some of the activities you can enjoy while here is island hopping and snorkeling.
GCQ GUIDELINES FOR TRAVEL:
*Only Pangasinan residents above the age of 15 and below the age of 65 are allowed to travel. (Pregnant women, persons with existing high-risk health conditions and co-morbidities, minors who have medical complexity, neurologic, genetic, metabolic conditions, or who have congenital disease are prohibited from traveling)
TRAVEL REQUIREMENTS:
1) valid ID
2) medical certificate issued by the Rural Health Unit point of origin
3) approval of travel registration from the Online Visitor Registration System (OVRS). For further inquiry on OVRS, one may inquire from the local Tourism Office of each town/city in the province.
Guidelines for tourists, on the other hand, stated that for Phase 1 of the travel corridor, only residents of the provinces of La Union, Ilocos Sur, Ilocos Norte, and the City of Baguio shall be allowed to travel to Pangasinan
5.) Kalanggaman Island (Palompon, Leyte)
Regarded as one of the most beautiful beach destinations in the Visayas, it should come as no question that Kalanggaman Island is one of the most-sought after summer destinations in the Philippines. While it was relatively unknown back in the day, it rose to popularity after several bloggers visited the beach and noted how crystal clear the water was. As one of the untouched beaches in the country, Kalanggaman Island features stunning white sands and beautiful sandbars making this isle one of nature's best. To experience the beauty of the island, stay overnight by pitching a tent and witness a sky full of stars that you cannot see in cities.
GCQ GUIDELINES FOR TRAVEL:
Mandatory 14 days quarantine at designated QA
Medical Certificate from DOH of their place of origin (not PUM/PUI) (inbound/outbound)
Certification – Undergo medical examination as deemed necessary
If you are looking for a summer-appropriate activity, why not head to the beach and stay for a few days by pitching a tent? Just be sure to pack all the essentials before you go on your way. After all, with the country's wealth of beautiful beaches, you definitely have a lot of beach camping options.