‍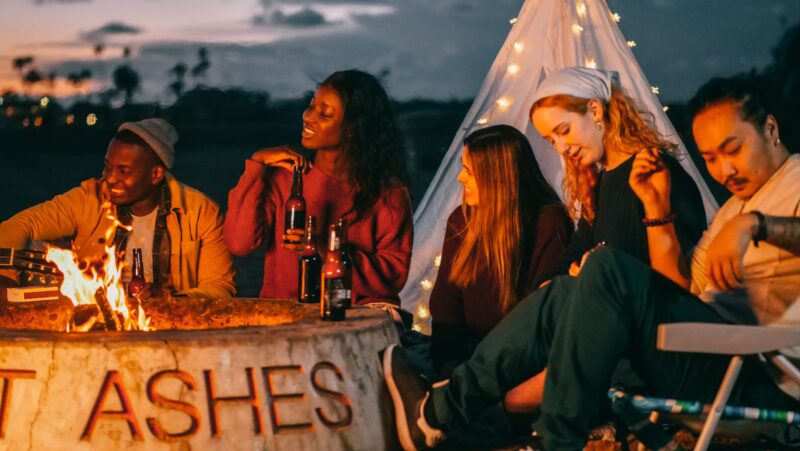 ‍
Are you dreaming of cozy evenings spent by a crackling fire in your backyard? A fire pit can add warmth, ambiance, and entertainment to any outdoor space. However, choosing the perfect location for your fire pit is crucial to ensure both safety and enjoyment. With so many factors to consider, it can be overwhelming to know where to start. But fear not! We've compiled ten expert tips to help you find the ideal spot for your fire pit. From safety regulations to aesthetic considerations, we'll guide you through every step of the decision-making process. So whether you're envisioning intimate gatherings or roasting marshmallows with the family, our tips will help you create the ultimate outdoor oasis. Get ready to ignite your backyard with the perfect fire pit location!
Importance of Choosing the Right Location for Your Fire Pit
The location of your fire pit plays a crucial role in both safety and functionality. Before you start digging or assembling your fire pit, take the time to carefully consider the following factors.
When it comes to safety, it's important to adhere to local regulations and guidelines. Different areas may have specific rules regarding fire pit placement, such as minimum distances from structures or property lines. Additionally, consider the type of fire pit you're planning to install. Some fire pits require a non-combustible base, while others may need additional safety features like spark guards or ventilation. Taking these factors into account will help you create a safe and enjoyable space for your fire pit.
Assessing the Size and Layout of Your Outdoor Space
After addressing the safety concerns, it's time to assess the size and layout of your outdoor space. Consider the available area and how it will accommodate the size of the fire pit you desire. Smaller fire pits are ideal for intimate spaces or cozy corners, while larger fire pits can become the focal point of a spacious backyard. Take measurements of the area and consider how the fire pit will fit in relation to other existing features, such as seating areas or landscaping elements. This will help you visualize the overall layout and ensure that the fire pit doesn't overwhelm the space or impede foot traffic.
Determining the Proximity to Your Home and Other Structures
Another important consideration is the proximity of your fire pit to your home and other structures. While a fire pit can create a warm and inviting atmosphere, keeping a safe distance is crucial to prevent accidental fires or damage. The general rule of thumb is to keep your fire pit at least 10 feet away from any structures, including fences, trees, or overhead structures like pergolas. This will minimize the risk of sparks or embers igniting nearby surfaces. Additionally, consider the direction of prevailing winds in your area. Placing your fire pit upwind from your home and other structures will further reduce the risk of smoke or sparks blowing toward them.
Evaluating the Availability of Fuel and Ventilation
When choosing the location for your fire pit, it's important to consider the availability of fuel and ventilation. Most fire pits are designed to burn wood, propane, or natural gas. If you're planning to use wood as your fuel source, ensure that you have a readily accessible supply nearby. Consider the storage and accessibility of firewood and any local restrictions on burning wood. If you're opting for a propane or natural gas fire pit, ensure that you have the necessary gas lines or propane tanks in place. Additionally, proper ventilation is essential to allow for smoke to dissipate. Avoid placing your fire pit in an enclosed area or under low-hanging branches that could impede airflow.
Taking Into Account the Prevailing Wind Direction
The prevailing wind direction in your area is an important factor to consider when choosing the location of your fire pit. Placing your fire pit in an area that aligns with the prevailing wind direction will help minimize smoke and ensure a more enjoyable experience. Take note of the wind patterns in your backyard and consider how they may affect the placement of your fire pit. If you're unsure about the prevailing wind direction, you can use a wind vane or consult local weather records to determine the most suitable location.
Considering the Aesthetics and Ambiance of Different Locations
Beyond the practical considerations, it's important to think about the aesthetics and ambiance of different fire pit locations. Your fire pit should be functional and enhance the overall visual appeal of your outdoor space. Consider how the fire pit will complement your existing landscaping or outdoor design elements. For example, placing it in a central location can create a focal point, while a secluded corner can provide a more intimate setting that will be perfect for date nights. Additionally, think about how the fire pit's location will affect the view from different areas of your property. A well-placed fire pit can offer stunning vistas and create a sense of tranquility.
Incorporating Privacy and Noise Considerations
Privacy and noise considerations are also essential when choosing the location for your fire pit. If you value your privacy, consider placing the fire pit in an area that is shielded from neighboring properties or public spaces. This could be achieved through strategic landscaping or the use of privacy screens. Additionally, think about how noise from the fire pit may impact your neighbors or vice versa. If you live in a densely populated area, choosing a location that minimizes noise disturbance may be wise. Balancing privacy and noise considerations will help create a serene and enjoyable environment for your fire pit gatherings.
Planning for Accessibility and Convenience
When selecting the location for your fire pit, it's important to plan for accessibility and convenience. Think about how easily you and your guests can access the fire pit. Consider the proximity to seating areas or outdoor dining spaces, as well as the availability of nearby amenities like restrooms or outdoor kitchens. Additionally, think about the terrain and surface where the fire pit will be placed. Ensure the area is level and stable to prevent accidents or injuries. Creating a comfortable and user-friendly space will enhance the overall experience of your fire pit.
Conclusion
Choosing the perfect location for your fire pit is crucial in creating a safe, functional, and visually appealing outdoor space. By considering factors such as safety regulations, size, and layout, proximity to structures, fuel availability, wind direction, aesthetics, privacy, accessibility, and seeking expert advice, you can find the ideal spot that meets all your needs. Whether you're planning intimate gatherings or family get-togethers, a well-placed fire pit will add warmth, ambiance, and entertainment to your backyard oasis. So get ready to gather around the fire and create unforgettable memories with your loved ones.