Heading out for a camping trip? Don't forget to pack the essential gear that will make your outdoor adventures more enjoyable and convenient. One such item you might not realize you need until you do is a camp cooler. These coolers are not only designed to keep your food and drinks chilled, but they also offer a range of features that will enhance your camping experience.
Importance of camp coolers
When it comes to camping, having a reliable camp cooler is essential. It provides a convenient way to keep your food and beverages fresh and cool, regardless of the outdoor temperatures. Without a camp cooler, you run the risk of spoiled food, warm drinks, and a less enjoyable camping experience.
A camp cooler is not just a luxury; it's a necessity. Whether camping for a weekend or an extended period, having a reliable cooler ensures you can enjoy fresh food and chilled drinks throughout your trip. It also allows you to bring perishable items you wouldn't be able to bring otherwise.
Additionally, a camp cooler can serve as a multipurpose storage solution. It can keep your food safe from wildlife and insects and keep your personal belongings organized and protected from the elements. So, don't underestimate the importance of a quality camp cooler when planning your next camping adventure.
Types of camp coolers
Camp coolers come in various types and styles, each offering unique advantages and disadvantages. It's essential to understand the different types available to choose the one that best suits your needs. Here are some of the most common types of camp coolers:
• Traditional coolers
Traditional coolers are the most common type and are typically made of hard plastic or metal. They offer excellent insulation and can keep your food and drinks cold for an extended period. These coolers often have sturdy handles and latches for easy transportation and secure closure.
• Soft-sided coolers
Soft-sided coolers are lightweight and flexible, making them easy to carry and store. They are often made of durable fabric and have insulation to keep your items cool. Soft-sided coolers are perfect for short camping trips or when you need to pack light.
• Electric coolers
Electric coolers use a power source, such as a car battery or a portable generator, to cool the contents. These coolers are suitable for car camping or RV trips, where you have access to electricity. Electric coolers can maintain a consistent temperature and are ideal for keeping your perishable items fresh for an extended period.
All these are available from your trusted outdoor store. Just make sure to choose a camp cooler based on your needs. This brings us to the next section.
Factors to consider when choosing a camp cooler
When selecting a camp cooler, several factors should be considered to ensure you choose the right one for your needs. Here are some key factors to consider:
• Size and capacity
The size and capacity of the cooler depend on the number of people you're camping with and the duration of your trip. Consider how much food and beverages you plan to bring, and choose a cooler that can accommodate your needs.
• Insulation
Look for a cooler with thick insulation to ensure maximum temperature retention. The quality of insulation will determine how long your items will stay cold.
• Durability
A camp cooler should be able to withstand the rigors of outdoor use. Look for coolers made with sturdy materials and reinforced corners and hinges for added durability.
• Portability
Consider the weight and design of the cooler. Choose a cooler that is easy to carry and transport, especially if you'll be hiking or moving around frequently.
• Price
Set a budget for your camp cooler and choose the best value for your money. While high-end coolers may have superior insulation and durability, there are also more affordable options available that can still meet your needs.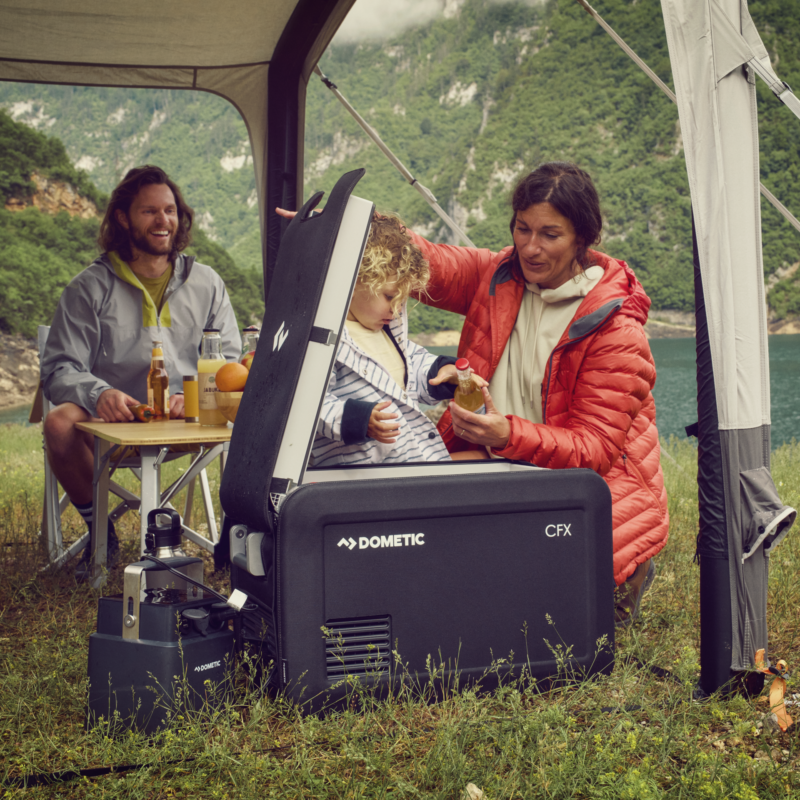 Features to look for in a camp cooler
To ensure you get the most out of your camp cooler, there are several features you should look for. These features can enhance your camping experience and make using the cooler more convenient. Here are some essential features to consider:
• Drainage system
A good camp cooler should have a reliable drainage system to remove melted ice or water. Look for a cooler with a plug or valve for easy draining.
• Multiple compartments
Having multiple compartments allows you to separate different items and keep them organized. Look for coolers with dividers or removable baskets to maximize storage and organization.
• Built-in bottle opener
Some coolers come with built-in bottle openers, eliminating the need to bring one separately. This feature can come in handy when enjoying your favorite beverages outdoors.
• UV protection
Look for coolers with UV protection to prevent sun damage and discoloration. UV-resistant coolers can withstand prolonged exposure to sunlight without compromising their performance.
• Locking mechanism 
A secure locking mechanism prevents animals or curious children from accessing your cooler. Look for coolers with sturdy latches or locks for added security.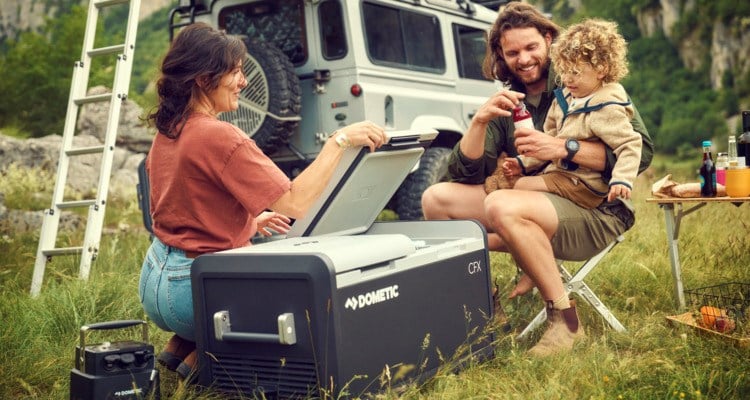 Top camp cooler brands and models
When it comes to the best camp coolers, several brands have established themselves as leaders in the industry. These brands offer various models with different features and price points. Here are some top camp cooler brands and models to consider:
1. Dometic
Dometic coolers are a reliable and efficient solution for keeping perishables cold during outdoor adventures. These powered coolers, such as the Dometic CFX3 75DZ, offer the convenience of refrigeration without the need for ice. With a compressor model and Bluetooth/WiFi connectivity, Dometic coolers provide precise temperature control through a smartphone app. They have excellent insulation and can keep contents fresh for up to 36 hours when unplugged. Dometic coolers are energy efficient, consuming around 50.7 watts of power while cooling. They also offer multiple battery modes to protect the battery life. With a reinforced plastic body and robust hinge, Dometic coolers are built to withstand outdoor conditions.
2. Yeti
Yeti is known for its high-quality coolers that offer excellent insulation and durability. The Yeti Tundra series is popular among outdoor enthusiasts, with various sizes available to suit different needs.
3. Coleman
Coleman is a well-known brand that offers affordable and reliable coolers. The Coleman Xtreme series is highly regarded for its excellent cooling capabilities and spacious design.
Camp cooler accessories and add-ons
To enhance the functionality of your camp cooler, you can consider several accessories and add-ons. These accessories can help you maximize storage space, improve insulation, and make using your cooler more convenient. Here are some popular camp cooler accessories:
• Dividers
Cooler dividers help create separate compartments within your cooler, allowing you to organize items more efficiently and prevent cross-contamination.
• Ice packs
Ice packs are a great alternative to traditional ice cubes. They are reusable, easy to store, and can keep your items cold without the mess of melting ice.
• Cushions
Cooler cushions provide extra insulation and help keep your items colder for longer. They also make sitting on your cooler more comfortable.
• Wheels
Adding wheels can make transporting it easier if you have a large and heavy cooler. Look for coolers with built-in wheels, or consider purchasing a separate wheel accessory.
For one, the Dometic fridge in the Philippines comes with various accessories such as protective covers, stands, bottle openers, and more.
Tips for using and maintaining a camp cooler
Proper usage and maintenance are crucial to ensure your camp cooler performs optimally and lasts for many camping trips. Here are some tips to help you get the most out of your camp cooler:
1. Pre-cool your cooler
Before packing your cooler, pre-cool it by adding ice or frozen gel packs for a few hours. This helps lower the internal temperature and ensures better insulation.
2. Use block ice
Block ice lasts longer than ice cubes or crushed ice. Opt for large blocks of ice to maximize cooling efficiency.
3. Pack efficiently
Pack your cooler strategically, placing perishable items at the bottom and drinks on top. This allows for easier access and helps maintain a consistent temperature.
4. Keep it closed
Limit opening your cooler unnecessarily to prevent warm air from entering. This will help maintain the temperature inside and prolong the life of your ice.
5. Clean and dry thoroughly
After each use, clean your cooler with mild soap and water, and make sure it is completely dry before storing. This prevents the growth of mold and mildew.
Final thoughts
A camp cooler is an essential piece of gear that can significantly enhance your camping experience. It keeps your food fresh, your drinks cold, and provides a convenient storage solution for your outdoor adventures. Considering the factors mentioned in this article and exploring the different types and brands available, you can choose the perfect camp cooler that meets your needs and budget.
Use and maintain your camp cooler properly to ensure optimal performance and longevity. With the right accessories and add-ons, you can further enhance the functionality of your cooler and make your camping trips even more enjoyable.
So, before heading off on your next camping trip, invest in a quality camp cooler. You'll be amazed at how much it can improve your outdoor adventures and make you wonder how you ever camped without one. Happy camping!