Glamping has brought camping to new heights. So don't be surprised by the persistent mushrooming of glampsites in the Philippines.
Hotels are nice, especially with the ever so fluffy bed. You cannot just travel to a place and coop up in the hotel room no matter how cozy and convenient it may be.
Thanks to glamping, you can now camp in style alone or with your family and friends.
Glamping defined
Glamping is a portmanteau of the words glamorous and camping. A glampsite is a place or facility that offers glamping areas and associated amenities and services.
It has become a camping style that is complete with amenities for the utmost comfort and convenience of the camper or group of campers. Some of these are carpeted tents and queen-sized beds.
In some instances, the glampsite extends resort-style services to the campers so they would feel like a home away from home. 
Glampsites in the Philippines
There are several glampsites in the country. However, these are the most prominent ones.
The Birdhouse (El Nido, Palawan)
The Birdhouse epitomizes glamping in one of the most beautiful places in the country a few meters away from Maremegmeg Beach. The place is ultra-private too as there are only four tents.
Every tent, also known as "nest," boasts of a spacious area, complete with a private bathroom and lounge area. The biggest nest can sleep up to four campers. A stay here comes with complimentary breakfasts.
And since it is a birdhouse, you guess it right—each nest is perched atop a tree. The amazing views around you are worth waking up to. From your nest, you can see the Bacuit Bay, Helicopter Island, and Cadlao Island.
Since you're in El Nido, you can spend the day island hopping (the place is a great starting point to explore the other islands nearby, and the night around the pit with some hot choco and s'mores.
Aetas Glamping (El Nido, Palawan)
Still in El Nido, Aetas Glamping offers a luxurious campsite that exudes traditional rustic charm. The tents are mostly made from wooden materials.
Aetas Glamping is situated away from the town proper, where the picturesque rice fields are found. The fields are heaven to look at, especially when they are in velvety green form. 
Campers who have tried glamping here claim that the best of staying here is the exquisite service.
Toby and Thelma's Island Camping Adventure (San Vicente, Palawan)
Besides El Nido and Coron, there is yet another place in Palawan that is known for its glamping facility: Port Barton in San Vicente.  
Toby and Thelma's, a beachfront glampsite, is located here. What's unique at this glampsite is the tents with nipa roofs. Each of the nine spacious tents has a double bed with extra space for a mattress and an outdoor lounge fitted with bamboo furniture pieces, hammocks, and bonfire pit. Mosquito nets are attached to all sides of the tent.
The accommodation comes with meals (three times daily). The camping adventure facility also owns kayaks and snorkeling equipment that campers can use for free.
If you want to island-hop, the management can also organize a day tour so you can visit beautiful beaches nearby. You can also snorkel to appreciate the coral reefs and sea turtles.
BLOC Camp Site (Cavinti, Laguna)
If you prefer mountains over beaches, then this glampsite in Laguna is for you. BLOC Camp Site opens to the magnificent view of the mountain range.
From your tent, you might want to wake up at dawn to catch the astonishing sunrise. Without a doubt, this would become the most important of your camping.
Nevertheless, it is located near islets where you can go for a swim or paddle board. You can hop on a kayak and explore the place through it. 
Anawangin Cove (San Antonio, Zambales)
Nagsasa Cove (San Antonio, Zambales)
Crystal Beach Resort (San Narciso, Zambales)
If you and your friends are in search of a glampsite near Manila, head on to Zambales. 
Zambales is famous for its camping sites such as Anawangin Cove and Nagsasa Cove, both in San Antonio. However, there is a glampsite in San Narciso called the Crystal Beach Resort.
Each tent is equipped with two single beds with a complete set of beddings. Complimentary breakfasts, toiletries, and towels are also provided. 
There are restaurants around the area, but they tend to be expensive. Alternatively, the resort has a cooking facility that you can use free of charge.
You can take advantage of the serenity of the place since it is away from the city. 
The Glamp (San Felipe, Zambales)
Yet another glampsite in Zambales is The Glamp. Located in San Felipe, The Glamp wants to provide campers with the ultimate glampsite experience. 
What sets The Glamp apart from the competition is their comfortable air-conditioned tents. The only downside could be the common bathroom. Fret not, though, they clean, well-maintained, and, most importantly, bidet-equipped.
Another unique feature is the accommodation comes with a s'mores kit that you and your friends can enjoy by the fire pit. Complimentary foot massage services are also included.
Lastly, the staffs are friendly, accommodating, and approachable.
Nayomi Sanctuary Resort (Balete, Batangas)
Nayomi Sanctuary Resort has added glamping services to its core resort services. The glamping scene in the Philippines has never been the same since then.
The rustic-designed tents are elevated, allowing campers to see the surrounding landscapes uniquely. Each tent, which is roomy enough to sleep up to nine people, has its own double beds, bathroom, and industrial fans. 
A stay here entitles campers to complimentary breakfast and access to the bar, restaurant, and pools. 
As such, this glampsite in Batangas is designed for families and big groups. Nayomi Sanctuary Resort has a total of ten tents today.
The management hosts bonfires and film viewings under the starry sky (weather permitting).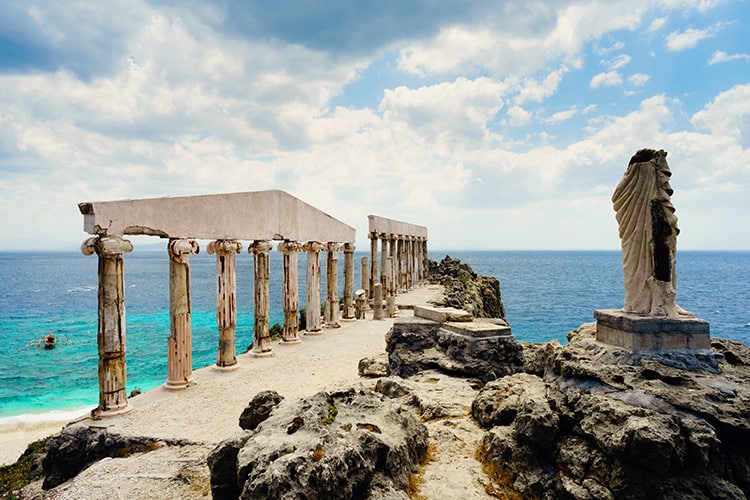 Fortune Island (Nasugbu, Batangas)
Easy Adventure (Baler, Aurora)
Although this one is too far from Manila, driving up to Baler, and specifically, to Easy Adventure is worth every mileage. 
Easy Adventure is a peaceful place, so you'll find tranquility here while camping in style, that is.
The glampsite features spacious tents that are furnished with all the right luxuries—from the full-sized beds to tables and armchairs. 
The place is set for ultimate relaxation. Each tent has a yoga deck that overlooks the fields of flowers and the sea. The beach is within walking distance as well. 
Easy Adventure is all about reconnecting with nature, so there's no electricity here. However, campers are treated to a scene of fireflies whimsically fluttering at nighttime.
Sand and Stars Beach Resort (Dinadiawan, Aurora)
You might not have heard of Dinadiawan. But there is one famous glampsite here called the Sand and Stars Beach Resort.
From its name, the tents are set up facing the beach. So each morning upon waking up and zipping open your tent, crashing waves will greet you. The tents are covered with nipa roofs too.
However, luxurious may not be the right term to describe Sand and Starts. It is more vibrant, quaint, and quirky. It all boils down to the elements, including the colorful throw pillows, blankets, and pieces of furniture.
Splay out on the beach are hammocks where you can lounge around. If you want, you may also play beach volleyball with your friends.
Bluewater Sumilon (Oslob, Cebu)
Bluewater Sumilon is located in Oslob, which is famous for its whale shark watching. Nonetheless, this glampsite is found on the lagoon beachside of Sumilon.
Bluewater Sumilon has five capacious and air-conditioned tents. What makes this glampsite unique is the introduction of in-tent minibars and bushcraft. Bushcraft refers to the skills of living in the bush. So expect a distinctive outdoor experience. 
With the bushcrafting classes, you will learn how to sharpen your camping skills while also enjoying primitive cooking and fire-making activities. Lessons on knife care are also part of the class.
A stay here at Bluewater Sumilon includes a full range of meals daily.
Waling-waling Eco Village (Calaguas, Camarines Norte)
If you want to go off-the-grid, Waling-waling Eco Village in Calaguas Island is your best bet. 
However, this is not your traditional glampsite because you would be sleeping on open-air cabanas. A total of sixteen cabanas are constructed facing the beach. 
Aside from doing water activities such as swimming and island hopping, glampers may also go trekking nearby.
Glamping Siquijor (San Juan, Siquijor)
If you are interested in big-group glamping, go to Siquijor. Glamping Siquijor has tents that can accommodate up to twenty people. 
The #1 rule in this beachfront glampsite is to enjoy. That's why there are lounge areas where you can hold a private barbeque party. 
There are also hammocks splayed between coconut trees as well as bamboo chairs beside each tent.
When camping, there is no need to sacrifice comfort, convenience, and style. Of course, you can always enjoy the great outdoors because glamping is essentially camping and communing with nature is still at its core.
With the above, there are many glampsites in the Philippines to choose from.
Sources:
https://theculturetrip.com/asia/philippines/articles/the-10-best-campsites-and-glampsites-in-the-philippines/
https://www.tripzilla.ph/glamping-philippines/11249