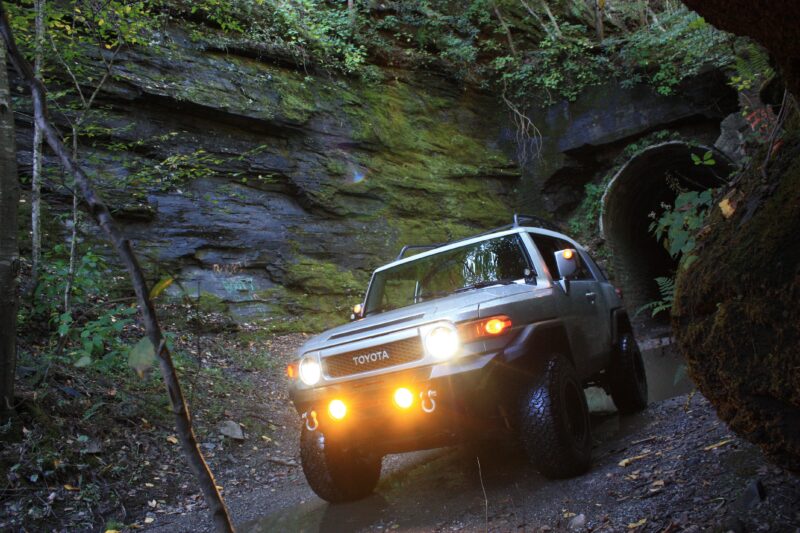 "Only those who risk going too far can possibly find out how far they can go." -T.S. Eliot.
To the uninitiated, overlanding is essentially traveling long or significant distances in your vehicle.
In the Philippines, overlanding is not a new way to travel nor a novel way to explore the great outdoors. However, many outdoor enthusiasts are yet to try it. Traveling overland in the Philippines makes you a pioneer in the trend. In a nutshell, overlanding is characterized by self-reliant travel to remote destinations solely for the sake of adventure and exploration. In essence, overlanding typifies the sentiment of having the journey, and not the destination, as the primary goal of travel. It is a deeply immersive journey full of experiences, meeting new people, learning about different cultures, and discovering more of the world.
This year, there is so much in store for you with overland travel. All you need to do is pack your bags and get going. If you are new to the activity, you may be wondering about what gear you should have. No need to worry; almost everything is available online and in stores such as Frontrunner Philippines. Keep in mind that having the right gear makes the experience more enjoyable, so choosing the right ones is paramount. So, before you head out the open road and begin your journey, be sure to take a look at this checklist for overland gear for your next overland travel:
a.) Vehicle/ Trailer
Undoubtedly, your vehicle is the most important thing you will need for your overland trip. It is what will propel you further and take you places. That said, it is imperative to find a top-quality vehicle or trailer. Choose one that you are comfortable in and is also ideal for off-roading. Researching may yield results of vehicles built to be all-in-one vehicles and campers. These vehicles may be enticing, but buying one is not always practical unless you intend to make a lifestyle out of overlanding. That said, you can simply use the trusted vehicle you already have and have it outfitted for overlanding by professionals.
b.) First-Aid Kit
One cannot stress the importance of having a first-aid kit on overland travel. As the saying goes, "It is so much better to have it and not need it than need it and not have it." Needless to say, a first-aid kit is probably one of the most important pieces of camping gear out there. Of course, you never have to touch this in an ideal scenario, but you should have it when needed.
c.) Fire Extinguisher and Fire Blanket
Most campers overlook the importance of having this piece of overlanding and outdoor camping gear. Still, you need it in your vehicle when you may need it. Accidents can happen when you cook for days on end in your camper or trailer. Ensuring that your overlanding trip goes without a hitch and that your trailer is safe from fires can be addressed by having a fire extinguisher ready.
d.) Tools
Having a well-rounded toolkit specific to your vehicle and trailer is paramount. You never know what will happen on the road, and when something does happen to your overlanding vehicle, you want to be adequately prepared for it or run the risk of getting stranded. So apart from the toolkit that comes with your vehicle, you should also make sure that you have a set of spanners, a crowbar, socket wrenches, a hydraulic jack, and even a roll of duct tape.
e.) Spare Parts
Spare parts ensure you can keep going even if your vehicle fails owing to an old or broken part. For remote overland travel, be sure to have fan belts, fuses, a set of wheel bearings, relays, and fuel pumps and fluids (brake and transmission fluid). You will never know where the nearest vehicle repair station is, so having spare parts with you is essential.
f.) Water Filter
As many overland travelers would attest, you should never go on an overlanding excursion or overlanding camping trip without a water filter. Water filters are essential pieces of camping gear, and it is imperative to have one for every outdoor trip.
g.) Others
For overland purists, stoves, Alpicool car fridges, and Ecoflow power Stations may be too much of a luxury. However, these things often make a significant difference to your experience. It affords campers convenience and a bit of luxury, making the entire experience even more enjoyable. Just imagine being outdoors and having a hot and well-prepared cooked meal and a cold beverage to go along with it. While you can always do without these camping gear on your trip, having these items can mean the difference between a comfortable and enjoyable trip and a potentially miserable one.