"Money cannot buy happiness, but it can buy a tent, and that is kind of the same thing." -Anonymous.
Looking forward to your next camping adventure? Well, we certainly hope so.
If you have been going on outdoor excursions and backpacking exploits, there is a likely chance that you have already built and curated your selection of camping gear. You may have already covered the basics, such as tents, camping cookware, utensils, sleeping bags, camp outfits, accessories, and so on. As an avid camper, you probably have read all the reviews, brushed up on the latest gears, analyzed materials, and compared features. In fact, all that is left for you to do is add missing items to your collection.
However, how likely is it that your camping equipment fits a certain color theme?
Shopping for camping gear is already no small feat by itself, but shopping for camping gear that fits a color theme is an entirely different ballpark. Not only would you need to find certain items, but they need to come in a specific color. However, once you have shopped for appropriate gear in the specific color theme you have in mind, you will find that it is quite rewarding. To aid you in this relatively challenging endeavor, this article has curated a list of camping gear and equipment that all come in black.
WHY SHOULD YOU CHOOSE BLACK CAMPING EQUIPMENT?
To many individuals, black may be an uninteresting and drab color that sparks no conversations and is easily overlooked. However, to a camper, black denotes simplicity and elegance. So, you may have wondered: Why choose black colored items of all the colors available? Well, for starters, black never goes out of style, and choosing it will always match any other camping item you might have in your collection.
Of all neutral colors, black is the most neutral of them all. More importantly, outdoor camping often means getting your gear dirty. Black-colored items tend to hide dirt and camouflage stains rather well. For that reason, owning an array of black-colored camping gear means you have fewer dirty camping gear and equipment to worry about.
Lastly, black is elegant, and it makes for an excellent option as a background color. It is also a color with easy maintenance, considering that it conceals any blemishes rather well.
THE BEST BLACK-COLORED CAMPING GEAR, EQUIPMENT, AND ACCESSORIES TO ADD TO YOUR COLLECTION
a.) Eezi-Awn K9 Camping Fold A Chair
When it comes to camping chairs, personal preference is key. Some prioritize cozy comfort, while others prefer something a little more packable and lighter. Get the best of both worlds with Eezi Awn K9 Camping Fold A Chair. This camping chair is manufactured of black powder-coated aluminum frame support with a robust stainless scissor mechanism.
Moreover, the chair can be stored in a black PVC bag weighing only 5kgs, making it a sturdy, lightweight, and comfortable option.
b.) Barebones Living Railroad Lantern
Lanterns form an imperative part of your camping gear collection as they ensure that key areas will be illuminated and that you do not have to bask in the dark once dusk rolls in. Ensure that key areas in your campsite are well-lit with Barebones Living Railroad Lantern. This modern twist on an antique but well-loved unique Pacific vintage lantern is made from seeded glass and copper accents which would make it a unique accent on your campsite tables. The lantern utilizes batteries or USB with a run time of 100+ hours on low and 3.5 hours on high.
c.) Iwatani Tough Maru Black (Standard Size)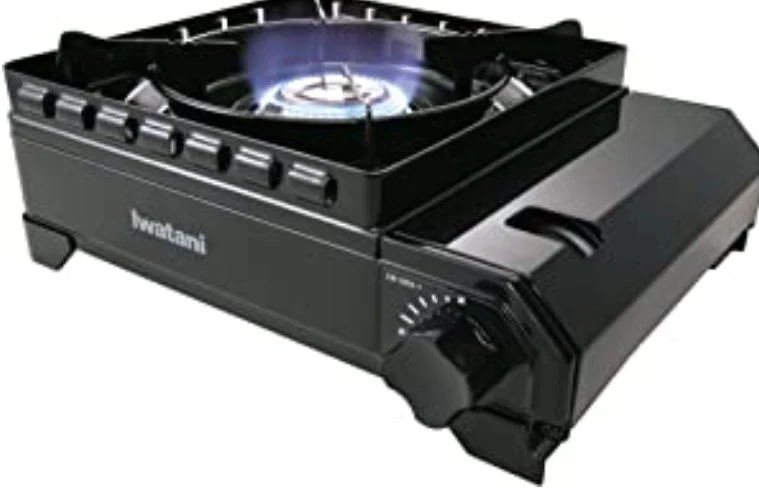 If you are the designated camp chef, you need the appropriate gear to ensure that you can make your food masterpieces—even at camp. A reliable choice would be the Iwatani Tough Maru Black in a standard size. This tough stove can be used outdoors without worrying about the wind blowing out your fire. In addition, the stove's porous burner with a short flame length ensures that you can cook all your food to perfection, as the flame is not easily extinguished. Lastly, the stove comes with its own carrying case making storage easier.
d.) 42L Pro Water Tank With Strap and Tap
Stay hydrated at camp by ensuring you have a water tank safely stationed in one of the areas at the campsite. To answer your hydration needs, the 42L Pro Water Tank with Strap is all you need. This water tank offers an easily accessible water source. Also, it can be securely strapped to your roof rack for everyone to use.
e.) Wildland Cooking Ware, Charcoal Tray, and Roasting Pan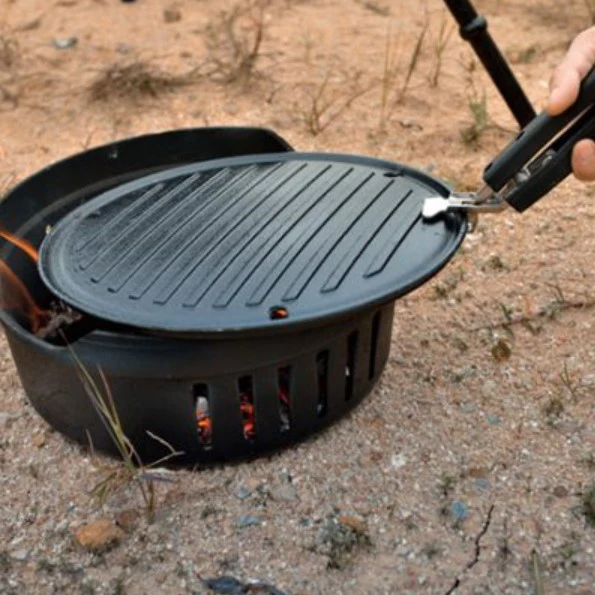 As a camp chef, sometimes a camp stove just does not cut it—especially if you want to grill or roast food items for lunch or dinner. With the Wildland Cooking Ware, Charcoal Tray, and Roasting Pan, all of your outdoor cooking dreams are answered. This camp equipment offers versatility as it can stew, grill, and fry, so you may not need a camp stove. The material is also made from cast iron, so you can cook as you please without worrying about cooked food items affecting your health.