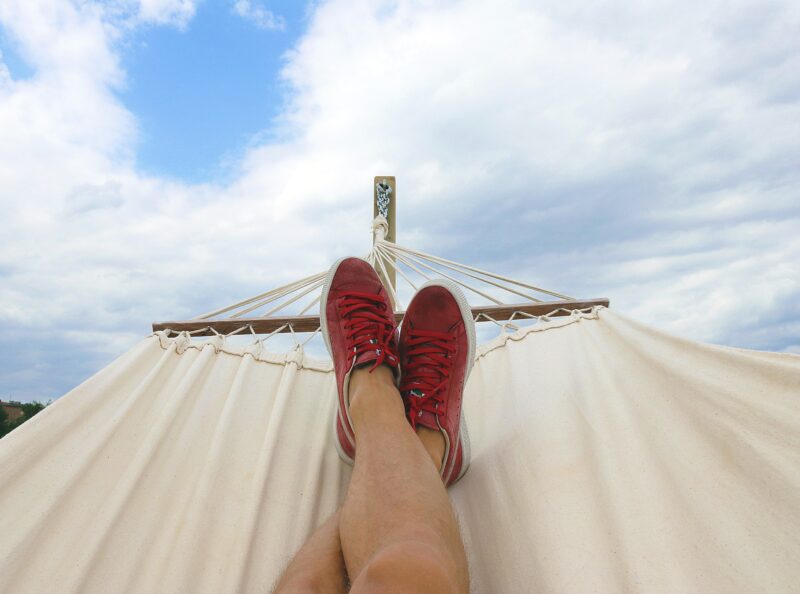 ‍
‍
Escape the hustle and bustle of everyday life and embrace the tranquility of nature with the best camping hammocks for your outdoor adventures. Whether you're embarking on a weekend camping trip or planning a long backpacking journey, a hammock is the perfect companion for those seeking ultimate relaxation in the wild. Imagine gently swaying in the breeze, cocooned in a comfortable hammock, as you soak in the breathtaking views and listen to the soothing sounds of nature. But not all hammocks are created equal, and finding the perfect one can be a little daunting considering the overwhelming options available.
That's where we come in. This guide will take you through a hand-picked selection of the best camping hammocks available, ensuring you have the ultimate outdoor experience. We've got you covered from lightweight and compact options for minimalist hikers to spacious and luxurious choices for avid campers. Get ready to unwind in the wild like never before and make your camping trip unforgettable with the best camping hammocks.
The Benefits of Camping Hammocks
Camping hammocks have gained popularity in recent years and for good reason. Unlike traditional camping tents, hammocks offer a unique experience that allows you to sleep off the ground, providing a more comfortable and restful night's sleep. The gentle rocking motion of the hammock can also help you fall asleep faster and improve the quality of your sleep. Additionally, hammocks are lightweight and compact, making them a popular choice among backpackers and hikers who value portability and ease of setup. Furthermore, hammocks are versatile and can be set up in various locations, giving you the freedom to camp in areas where tents may not be suitable, such as rocky terrain or steep slopes. Whether you're a seasoned camper or new to outdoor adventures, a camping hammock can enhance your camping experience and bring you closer to nature.
Importance of Choosing A Top Camping Hammock Brand
Choosing a good brand for hammocks is crucial because it ensures that you are investing in quality construction and durable materials. A hammock from a reputable brand will be made with triple-seam stitching and high-grade nylon, making it less likely to fall apart or tear. A good brand will also offer a range of sizes and accessories, ensuring that you can choose the right hammock for your needs. Additionally, a trustworthy brand will provide customer support and offer warranties, ensuring that your investment is protected. Overall, choosing a good brand for your hammock will ensure that you can enjoy your outdoor activities comfortably and safely for years to come.
BEST CAMPING HAMMOCK FOR YOUR OUTDOOR ADVENTURES
Introducing the ultimate outdoor sleeping solution – the Poler Tree Bed Hammock! This packable vertical camping hammock is a must-have for any adventurer who loves sleeping amongst the trees. With its durable 70D Nylon Taffeta Ripstop material, this hammock can withstand any rough terrain and weather conditions. It comes with straps included, making it easy to set up and pack away. The Poler Tree Bed Hammock is spacious, measuring 105.0 x 75.0 inches when unpacked, and can support up to 300.0 pounds in weight capacity. Don't settle for sleeping on the hard ground – elevate your outdoor sleeping experience with the Poler Tree Bed Hammock. Shop now at shopcampingears.ph
Best Camping Hammock for Comfort
The Poler Tree Bed Hammock is a must-have for anyone who loves camping and sleeping in the great outdoors. Designed for vertical camping, this packable hammock allows you to make your bed between the trees, offering a unique and comfortable sleeping experience. It comes with straps included, making it easy to hang, and it can be easily packed away for transport. Its reimagined design sets this hammock apart, making it even more convenient and comfortable than traditional hammock. With its one-inch padding and sturdy construction, the Poler Tree Bed Hammock is sure to provide a cozy and restful night's sleep, no matter where your outdoor adventures take you.
Best Camping Hammock for Durability
A durable option for outdoor enthusiasts due to its high-quality construction and materials, the Poler Tree Bed Hammock is an excellent option for individuals who value longevity in their products. Made with strong, ripstop nylon fabric, this hammock can withstand wear and tear from extended use and exposure to the elements. Additionally, the hammock's sturdy aluminum carabiners and reinforced tree straps ensure that it can be securely hung from trees without fear of damage or failure. Overall, the Poler Tree Bed Hammock is a reliable and long-lasting choice for anyone who wants to sleep comfortably and securely while camping in the great outdoors.
Best Camping Hammock for Portability
Another great feature of The Poler Tree Bed Hammock is its portability.  Conveniently designed for easy transport and set up, it is the perfect addition to a solo camper's collection of camping gear. It is made from lightweight materials that can be packed down into a compact size, making it ideal for camping trips or other outdoor adventures. The hammock has its own carrying case, making it easy to transport and store when not in use. Additionally, the hammock is easy to set up, with no tools required. Simply find two sturdy trees or posts to attach the hammock to, and you're ready to relax in style. Overall, the Poler Tree Bed Hammock is the perfect choice for anyone who wants a comfortable and portable hammock for outdoor use
Tips for Setting Up a Camping Hammock
Setting up a camping hammock may be a little complicated initially, but it can be a breeze with a few tips. To set up your camping hammock, take a look at the guide below:
Choose the Right Location: Look for sturdy trees or solid anchor points that are at least 12-15 feet apart. Make sure the trees or anchor points are strong enough to support your weight.
Adjust the Suspension: Use adjustable straps or ropes to hang your hammock. Ensure that the suspension is properly tightened to avoid sagging or discomfort.
Consider the Angle: Hang your hammock at a 30-degree angle for optimal comfort and support. This will allow you to lie diagonally and achieve a flat sleeping position.
Test the Height: Make sure your hammock is hung at a comfortable height. It should be low enough to easily get in and out but high enough to avoid touching the ground when you're inside.
Practice Tying Knots: Learn a few basic knots, such as the bowline or the taut-line hitch, to secure your hammock and make adjustments as needed.
Essential Accessories for Camping Hammocks
To enhance your camping hammock experience, consider investing in these essential accessories:
Insulation: If you plan on camping in colder temperatures, consider adding insulation to your hammock. Options include underquilts and sleeping pads that provide insulation from the cold ground.
Bug Net: A bug net is a must-have accessory if you'll be camping in areas with mosquitoes or other insects. It will keep bugs out while allowing you to enjoy a peaceful night's sleep.
Rainfly: A rainfly is essential for protecting your hammock from rain or dew. Look for a large rainfly to cover your entire hammock and provide adequate protection from the elements.
Suspension Straps: Invest in high-quality suspension straps that are easy to use and can securely hold your hammock in place. Look for straps that are adjustable and have a high weight capacity.
Conclusion
Unwinding in the wild has never been easier with the best camping hammocks. Whether you prioritize comfort, durability, or portability, there is a hammock out there that will suit your needs. From trusted brands to essential accessories, we've covered everything you need to know to make an informed decision. So, pack your hammock, grab your gear, and get ready to experience the great outdoors in a whole new way. With the right camping hammock, your outdoor adventures will be elevated to new heights of relaxation and tranquility. Happy hammocking!