"In a cool solitude of a tree, where leaves ad birds a music spin, mind that was wear is at ease, new rhythms in the soul begin." -Willian Kean Seymor.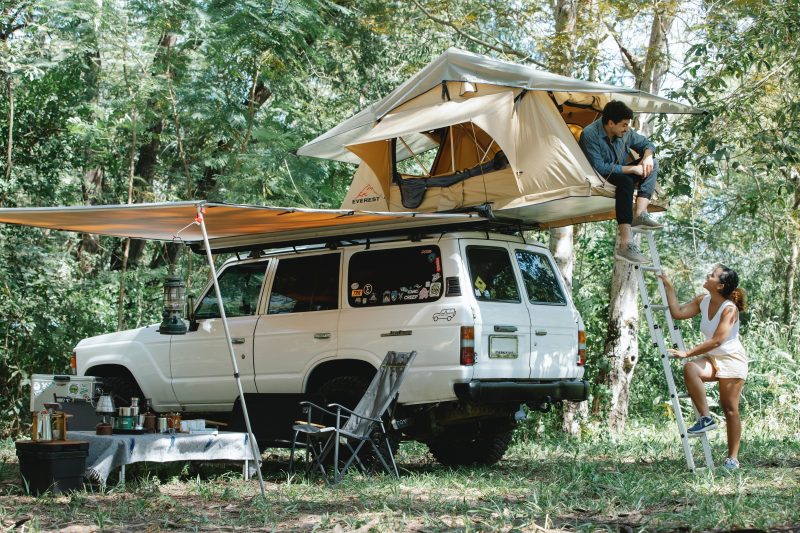 Camping is an excellent weekend activity if you want to unwind, immerse yourself in nature, and get the opportunity to disconnect from technology as well. 
However, while camping is a leisurely activity that many individuals enjoy, it can actually take a lot of work. That said, a little knowledge can go a long way in ensuring your camping trips are easier and more comfortable. With proper planning complemented with camping hacks, tips, and tricks, you can create a fun camping experience and lessen the work required to have a comfortable trip. For novice campers, this is paramount. So, if you have wanted to try your hand at camping, take a look at the article below, and before you know it, you will be camping just like the seasoned pros do. 
DIFFERENT TYPES OF CAMPING 
a.) Car Camping
As the name itself suggest, car camping means that you remain near your car. In this way, you can store supplies or even sleep in your vehicle. With car camping, campers typically have a boxed area with sand called a tent pad where a tent can be pitched. 
b.) Base Camping 
Base camping requires campers to carry what they need in a backpack, hike a few miles, and set up a campsite. The campsite serves as their base for the entire duration of the trip, and from there, they can go on day trips and hikes if they wish to explore the area. 
c.) Backpacking 
With backpacking, campers need to pack up in the morning and hike out to a new campsite each day. It is an excellent way to explore a larger area in just a single trip. 
d.) RV Camping and Glamping
RV Camping means you have a recreational vehicle such as a motor home, travel trailer, or camper van where you can sleep. On the other hand, Glamping is a term given to glamorous camping. It typically does not require campers to hike as the site is already set up when you arrive. 
CAMPING TIPS EVERY BEGINNER NEEDS TO KNOW 
1.) Always plan for bad weather 
Despite reading up on forecasts, weather can still be notoriously unpredictable. Being out in the wilderness unprepared during inclement weather can spell a disaster. That said, you should always have a handful of things with you to prepare just in case the weather might take a turn for the worse. 
Some of the things you should always pack with you on every camping trip are plenty of warm layers, a warm hat, waterproof clothing, sun protection, and insect repellent such as Thermacell Portable Mosquito Repellent Device. 
2.) Plan activities in advance 
Before leaving home for camp, it is imperative to give your things to do at camp a once over. If you need suggestions, you may check the website of the campgrounds as they may have ideas on what you can do at camp. With an abundance of nature surrounding you, there is no shortage of things to do—from forest walking, cycling on trails to exploring, your options are limitless. 
3.) There is nothing wrong with being over-prepared
If there is one thing seasoned campers advocate for, it is packing light. This is so you would not have a hard time lugging around your belongings to the campsite. However, you would not know what you really need until you have been camping for a while. That said, it is okay to be prepared for all situations until you can comfortably put together your own personalized list of essentials to bring to camp. 
4.) Always bring a first aid kit 
Let us hope that you will never have to use it, but as it is, it is imperative to have a first aid kit with you at camp. Beyond that, you should also know how to use the instruments contained within. You will never know when someone will encounter an accident, and knowing the basics of first aid can make a world of difference in ensuring a camper's safety. 
5.) Do not pitch up under a tree 
Although the shade may seem inviting, trees in the high wind can be a hazard if it has a few weak branches. These branches will cause damage to your tent, and if your tent is not made of sturdy material, it may even cause injury. 
6.) Pack portable chargers 
You will inevitably run out of phone battery during your trip, and while it is recommended to unplug for the full experience, you would want a few snapshots of your experience. Plenty of campsites offer electric pitches and phone charging facilities for their patrons, but having your own portable charger can be really convenient and helpful. 
7.) Plan for entertainment 
While at camp, you are encouraged to go analog with entertainment and forget about anything that involves electricity or power. That said, pack a handful of books, board games, and cards. Also, it is a good idea to think of outdoor games you can play to stay entertained while you are at the campsite.