Travel destinations in the Philippines are not created equal, although virtually all are explore-worthy. Case in point: some destinations are more romantic than the others. Campsites are the best examples.
Romantic and campsites are perhaps two words you never imagined appearing side by side, but they did. Campsites that cater to the lovey-doveys are a thing, and below are some of the most romantic campsites in the Philippines.
Most romantic campsites in the Philippines
WK Forest Reserve (Rizal)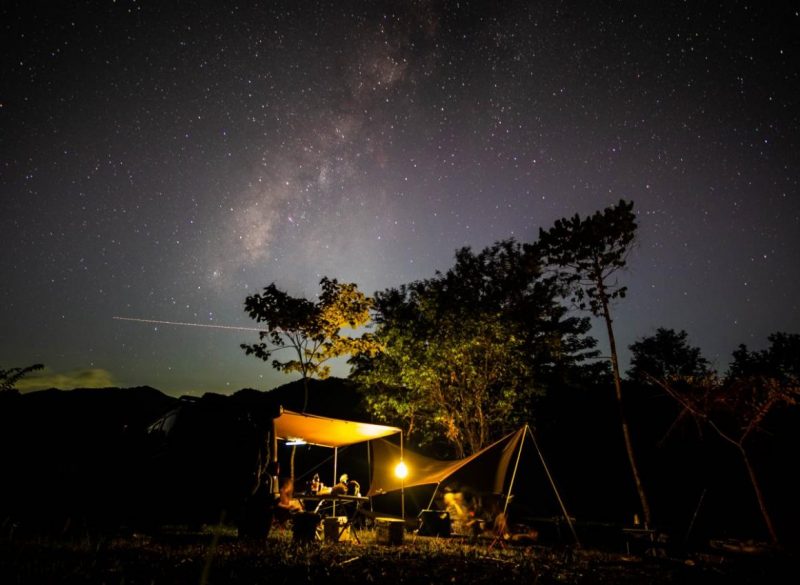 If you don't want to go somewhere far, there are two campsites in Rizal. The first one is called WK Forest Reserve and Campground. The trail towards the campground is an adventure in itself; you need a 4×4 or similar vehicle to cross the streams. The campground is located in an elevated area. Also, it is a suitable place for astrophotography.
Ten Cents to Heaven (Rizal)
Another Rizal campsite is known as the Ten Cents to Heaven. An ideal respite, the site features spacious tents and a serene environment that inspires the two to reflect how far you've together in the relationship. The campsite offers a view of the Sierra Mountain range. Campsites in Tanay are indeed slowly putting Rizal in the adventure map.
Calaguas Island (Bicol)
If you want to enjoy Boracay but without the crowd, your best bet is to camp at Calaguas Island. The two of you will surely appreciate the privacy of the place as well as the long sandbar. One beach is even called Mahabang Buhangin Beach because of this. You may pitch your tent anywhere in the sandbar, a few meters away from the beach.
Nagsasa Cove (Zambales)
Zambales, which is four to five hours away from Manila, houses several romantic campsites in the Philippines like Nagsasa Cove. Campers frequent the place because of its stunning view that makes spectating all the more romantic when shared with your special someone.
Anawangin Cove (Zambales)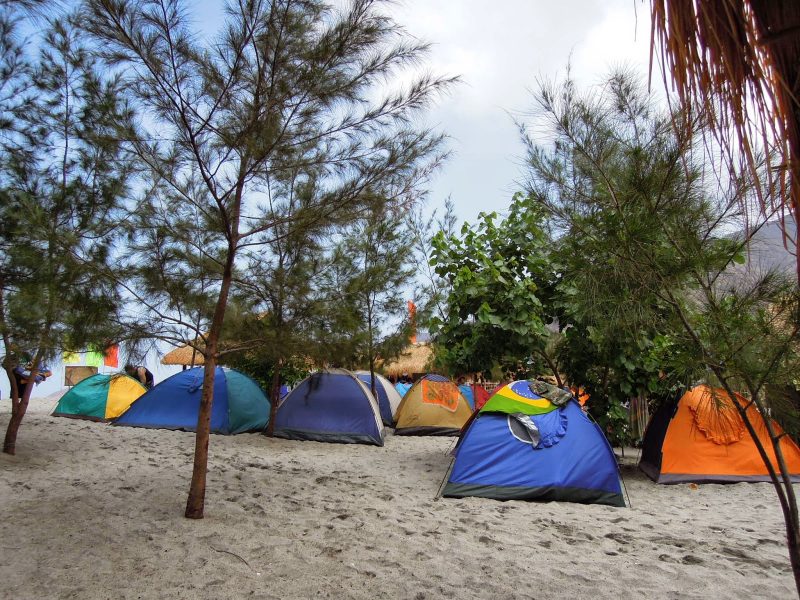 Anawangin Cove is another famous campsite in Zambales. The beaches are reminiscent of Baguio—agoho trees, which are pine tree lookalikes, abound the far end of the coastal area where you can pitch your tent. The place can get cold too, making it ideal for cuddling.
Crystal Beach Resort (Zambales)
If beach camping is your idea of a romantic getaway, head to Crystal Beach Resort, still in Zambales. The resort offers accommodation choices such as tree houses, cottages, and tents. Camping outside at night is the perfect way to share the night sky vista together.
Port Barton (Palawan)
You can never go wrong with Palawan, especially Port Barton. A private campsite, you can do all things together like swimming, kayaking, and snorkeling. Of course, if you want to laze around in your tent by the beach, it is possible.
The Birdhouse (Palawan)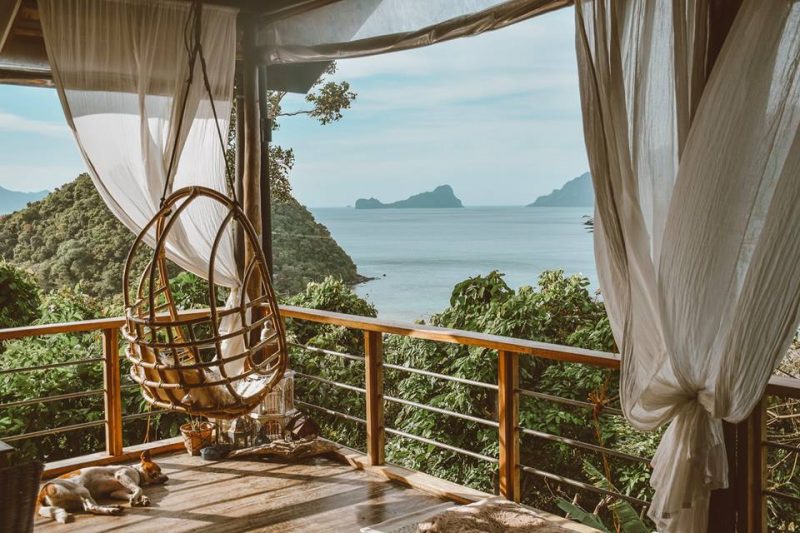 Another private camping destination in Palawan, but on the luxurious side, is The Birdhouse. It features four luxury tents that overlook Bacuit Bay. Pick this campsite if you want to camp in style with the one.
Sumilon Island (Cebu)
There are many romantic campsites in Cebu, but Sumilon Island stands out. The site is a luxury camp that is perfect for couples whose idea of a romantic getaway is unleashing their adventurous spirit. You can hike around the island if you want.
Eco Saddle Camp (Laguna)
Another campsite near Manila is Eco Saddle Camp in Laguna. It is one of the hidden gems of the province near the Caliraya Lake. The campsite rents floating cottages if you want to sleep together by the lake and wake up to its stunning view.
Fortune Island (Batangas)
Fortune Island was once a luxury island, and the remains are still apparent. Also, it is abandoned now. So if you ever decide to camp here, you'll have the place all by yourself (or with a few couples who also want to spend some quality time with one another). It features a replica of the ancient citadel like the one in Greece.
Nayomi Sanctuary Resort (Batangas)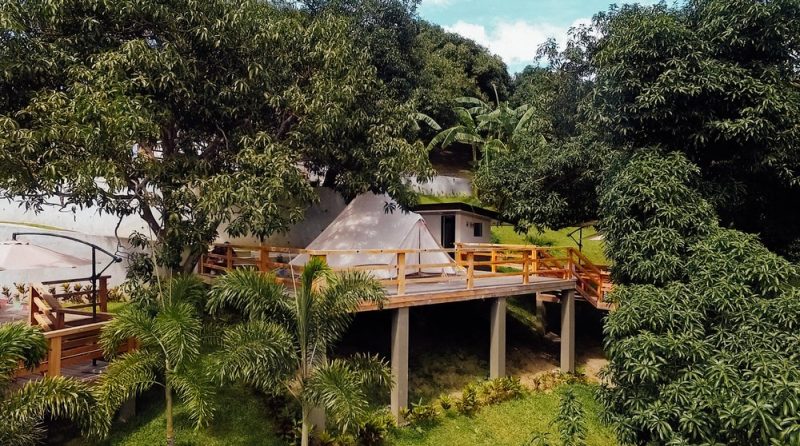 Nayomi Sanctuary Resort is a famous campsite in Batangas. The Instagrammable site screams romantic—from its wooden deck to the luxurious tent. The tent area is somewhat hidden, which means you need not worry about sharing intimate moments with other campers.
Mount Pinatubo (Pampanga)
If you want to feed your adventurous souls together, camping by the lakeshore of Mt. Pinatubo will surely do the trick. Getting to the summit is made for the adrenaline junkies too, starting with a bumpy off-road vehicle ride to trekking towards the lake. This is a guided overnight tour, though.
Tabionan Campsite (Iloilo)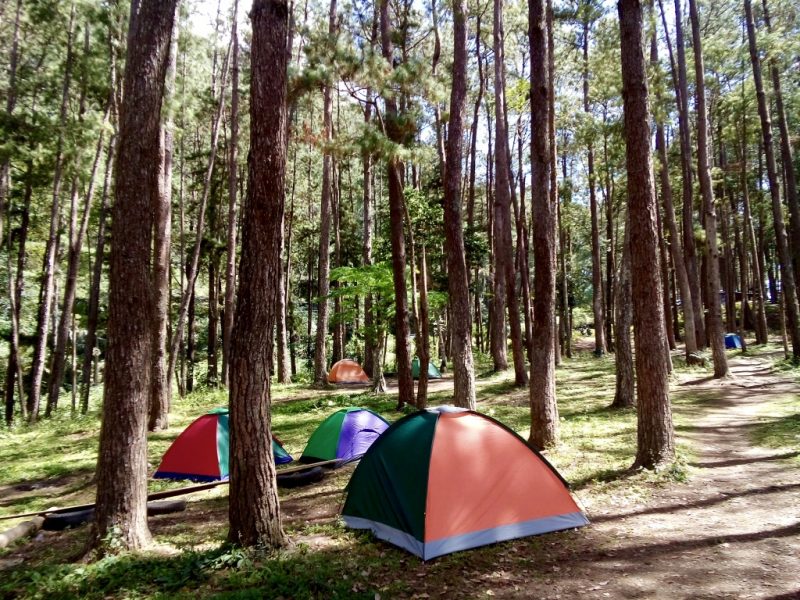 Tabionan Campsite is located in Iloilo's Little Baguio, so expectedly, this means experiencing the cuddle weather all year round. There's a mini forest full of pine trees. If you want to really enjoy the view, you two can trek to the Mansiga Natural View Deck. There is nothing more romantic than sharing a picturesque view.
Dahican Beach (Davao Oriental)
Dahican Beach features a long coastline. You can choose anywhere you want to pitch your tent, a few meters away from the beach, or on its far end where the fewest people chose to linger. You may swim, snorkel, and surf all you want, or enjoy the company of each other, getting to know each other more and deepening the relationship in the process.
Talicud Island (Davao del Norte)
Talicud Island is actually located across IGaCOS or the Island Garden City of Samal. This is an islet that is perfect for secret getaways. While it is small, there are several resorts to choose from, the majority of which offer camping options near the white sand beach or tuck away from the crowd. Speaking of which, a small crowd is commonplace.
Sand and Stars (Aurora)
Sand and Stars in Aurora is what it is—a beach campsite that offers relaxing by the beach all day and watching the starry sky at night. Cozy tents are available for rent, and they come with comfortable beds, vibrantly colored throw pillows, and solar-powered lamps. It feels like seeing the night sky for the first time.
Campsites in the Philippines are unique, though some exude the romantic vibe better. But, of course, we know you know that any place can be romantic when you are with your special someone. The two of you camping together, the passion, love, and care for each other, is the main reason why these sites are what they are—you put romantic on those sites.
Always remember that.