It's summer once again and the beaches are calling you—as if you are hearing the sounds of waves crashing to the shore.
But you want to amp up your beach game by doing beach camping. Why not? Beach camping is the ultimate getaway.
Even if this is your first time or nth time going on a beach vacation, you will learn a thing or from these beach camping tips, tricks and hacks.
Beach camping tips, trips, and hacks to live by
1) Camp offseason to avoid the crowd. Okay, we are talking about summer. But you can always go beach camping on offseason. With this, you and your travel buddy or friends could have the place to yourselves.
2) Reserve the beach in advance if a booking is required. You cannot just beach camp anywhere you want to. So it is best to find a place first and know if there are any reservation requirements. Book ahead of time.
3) Familiarize yourself with the rules. Whether where you are beach camping, there are rules to follow. For instance, some resorts require at least 50 meters away from the shore to set up the tent. Those things are important so you need not bring things you don't need and you don't run the risk of breaking any regulations.
4) Prepare a beach camping checklist. You can think of this guide as your no-nonsense guide in beach camping. Nonetheless, you can always draft your own checklist. It is best to think of it as a living document that you edit and update continually. After all, not all beach camping trips are the same, and these beach camping tips will amp up your game.
5) Bring beach-specific supplies. This is basic. If you have an evergreen checklist, you'd know what to bring. This is not just about beachwear, but also about bringing the essentials such as sand stakes and mini broom and dustpan.
6) Park a few feet away from the sand. Always remember this because you don't want to pull your vehicle stuck in the sand.
7) Study the terrain first. This is crucial before pitching the tent. Upon arriving at the destination, the first thing to do is to study the terrain. Locate the high-tide line, and set up the camp at least fifty meters away from it. Check the tide charts if there are any to be sure.
8) Study the wind movement. It pays to check the weather forecast every day at least five days before your camp date. Storms and wind produce gigantic waves. Even without a storm, starting a fire would be challenging at windy places.
9) Set up the tent off the beach under the shade. If you can find a place with shade, much better. You will have your tent to protect your stuff. But you need something to protect the camping tent too. The best site is where the sand meets vegetation. Trees can provide shade, but it also means firmer soil and steadier tent.
10) Level the sand before pitching the tent. Terrain-permitting, you'll find a flatland. If you can't, the next best thing is to level the sand before pitching. When laying on the ground at night, you won't experience any back strain. This should be fundamental to any beach camping tips list.
11) Pitch the tent against the direction of the wind. This is why it's important to study the wind movement while at the destination. Check the wind direction and go against its direction. This keeps the camping tent sturdier once pitched.
12) Get special tent skates for your tent. One of the pitfalls of beach camping is forgetting to buy and bring sand skates. Sand stakes are usually longer and have distinct edges for a stronger hold. The holding power of sand skates is better than your standard anchors.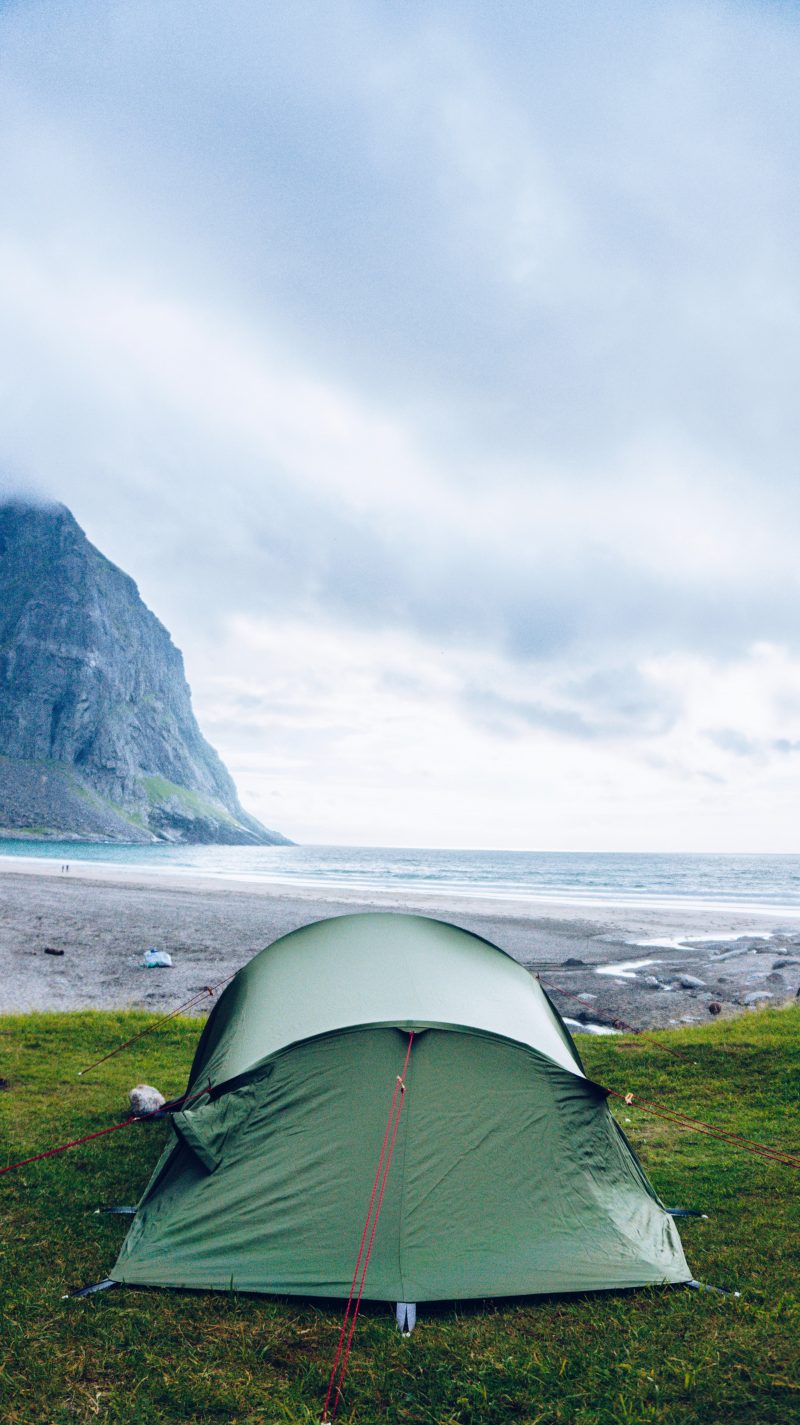 13) Use sandbags as weight. You need to keep your tent sturdy. Sandbags are the most ideal for keeping it in place.
14) Keep an eye on the tides. This should be self-explanatory but always bears repeating and emphasizing. Before you pitch the tent or build a campfire, make sure that the area is several meters away from the high tide line.
15) Use durable backpacks. People always say to pack light. With this, it is important to use a durable backpack. Not just sturdy, but the backpack must be right for your height and weight to avoid straining the back.
16) Think waterproof or water-resistant. Since we are already talking, choose a waterproof backpack. Always think waterproof when deciding what to bring for your next beach camping adventure. This is one of the best ways to prevent water from seeping into your things.
17) Consider water needs and availability. You are surrounded by water that you cannot necessarily drink. So pack a supply of drinkable water, in decent supply. Alternatively, you may bring water purification tablets or water filters. Upon arriving at the beach camp, one of the things you must do is to determine if a water source is nearby.
18) Pack a decent supply of water. For emphasis. Pack enough water supply for all campers.
19) Learn about bathroom accessibility. Not just water availability, but also bathroom accessibility. You want to make sure there is a bathroom with showers and flushable toilets.
20) Invest in a portable toilet. If not, your next best option is to invest and bring a portable toilet.
21) Pick a sunscreen with high SPF. A bad sunburn ruins a beach camping trip. So pack a high-SPF sunscreen that you can generously apply when out and about in the sun. As a rule of thumb: apply/reapply sunscreen every 2 hours to keep the sunburn at bay.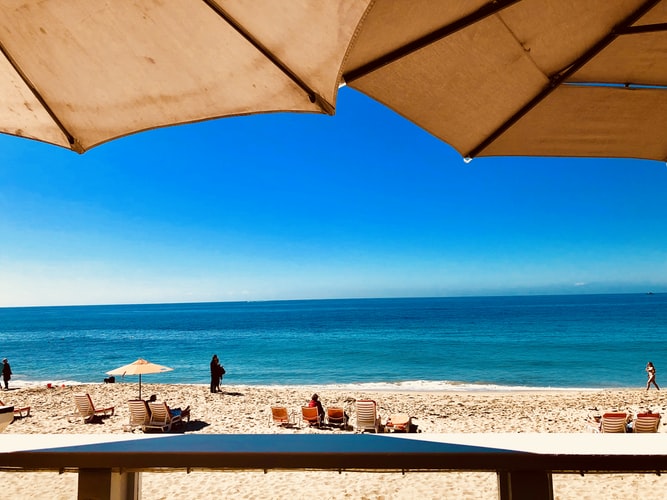 22) Prepare for the sun. In addition to sunscreen, you must bring a hat, cap, or umbrella. Hiding under the shade is a good idea, but you cannot always hide from the glaring sun. Beat the sun when it starts to beat down on you by bringing your own shade.
23) Prepare for the rain too. It rains when you least expect it. Full-sleeved shirts and rain jackets must be packed as well. For your tent, make sure that you have a rainfly. Anyway, it is advisable to use the rainfly even if it's not raining outside—it prevents humid air from getting inside your tent.
24) Bring a beach umbrella. If you need extra shade, you might as well bring a beach umbrella. Alternatively, you may bring canopy or tarp for the much-needed shade when it gets too hot at the beach.
25) Bring a scarf or sarong. Scarves are highly flexible because they can be transformed in many ways. If not a scarf, a sarong will do.
26) Remember slip, slap, slop. To keep your body cool and comfortable, always slip, slap, and slop. Slip on a cotton shirt, slap on a hat, and slop some sunscreen. Also, seek some shade and wear that sunnies.
27) Make sure beach campfires are permitted. Campfires are surely worth the time. However, it is your responsibility to know if bonfires are permitted or not. It is better to ask so you'd know the restrictions when it comes to this. Some beach resorts have designated campfire area for safety purposes. This beach camping tips list encourages you to stay in the designated areas.
28) Always bring a stove. You can always dig up on the ground to start a fire. This is also advisable because stopping the fire is easier—you can just throw some sand. However, it is also plausible to bring a stove. While at it, you need some sort of protection too like setting up the cooking area between trees or other forms of vegetation.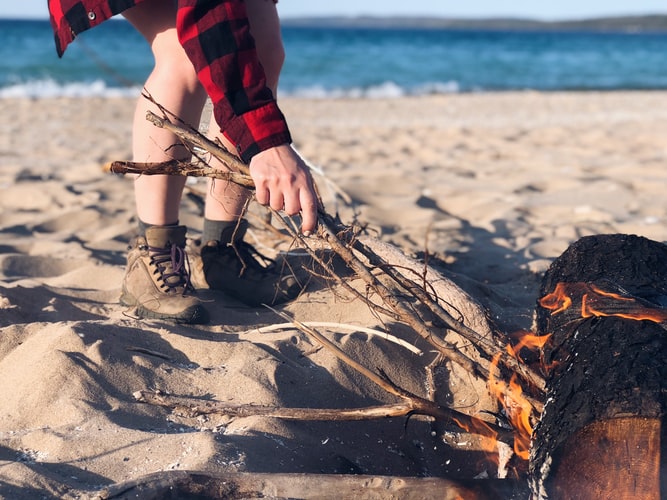 29) Bring your own firewood. You cannot depend on woods laying near the camp area. Don't count on finding driftwood on the beach either. So it is best to bring your own firewood to save yourself from the frustration of not finding what you need when you need it the most.
30) Store the food out of the sun. Food stays fresh up to two days inside the cooler. Keep them fresh for longer by storing the cooler and other food items away from direct sunlight.
31) Bring closed food containers. Bugs, insects, and flies are everywhere. Again, you want to keep your food clean and fresh. Bringing food containers with lids does the trick.
32) Bring Ziploc bags. Ziploc bags are a practical way for storing food. But they also come handy when you need to protect sensitive stuff like gadgets, keys, and wallet protected.
33) Bring dry bags. For extra waterproofing, dry bags are necessary.
34) Bring reusable utensils. Reusable utensils are good for the environment. Disposable utensils are also an option. If you really have to, buy biodegradable utensils. This is one way of doing your part in protecting the beach and ocean. You will always find this one in the list of beach camping tips, especially when it is about green camping.
35) Bring an insect repellent. Protecting yourself from pesky mosquitoes and bugs takes as simple as bringing an insect repellent. Use a good quality repellent, though. Better yet, you can use sunscreen that doubles as a repellent.
36) Always pack a first aid kit. This is basic. Never go out beach camping without a first aid kit.
37) Consider bringing scented oil lamps. Yes, you read that right. Fragrant oil lamps also keep the bugs and insects away while also keeping the camp area smelling good.
38) Secure lightweight objects. Lightweight objects can be blown by the wind. But windy or not, secure your things first.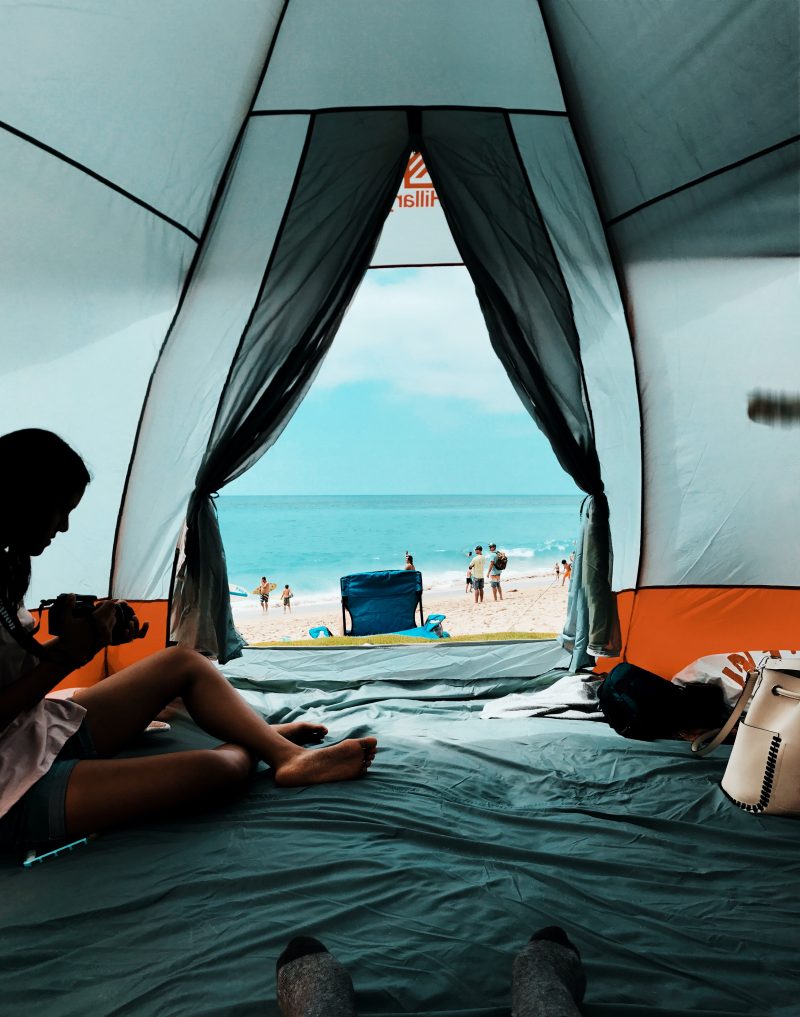 39) Keep the tent dry. You'll be doing a lot of water activities. But no matter what you do, keep your tent dry as possible. You don't want to sleep on a damp surface.
40) Keep the sand out of the tent. Prevent sand from getting inside the tent or your sleeping bag. Getting rid of such can be a real challenge. Lie a tarp under the tent so you have an extra layer to brush off the sand off your feet. If camping near your vehicle, bring buckets of water to rinse your feet before getting inside.
41) Invest in sand-free beach mat. Aside from keeping the shoes out of the tent, it pays to invest in a beach mat.
42) Pack a mini broom and dustpan if the space permits. With this combo, you can easily brush off the sand and keep the insides of the tent clean. Sweep up before sleeping and before folding up the tent.
43) Or, bring a mini portable vacuum. A portable vacuum that you can fit into spare space is highly recommended also. It can tackle not just the sand, but also dirt and residue.
44) Bring a tarp with you to cover things. Tarps are very versatile too. You can place it under the sleeping bag for insulation, place it at the tent entrance, and cover things. Tars are usually thick, so they can cover anything even food.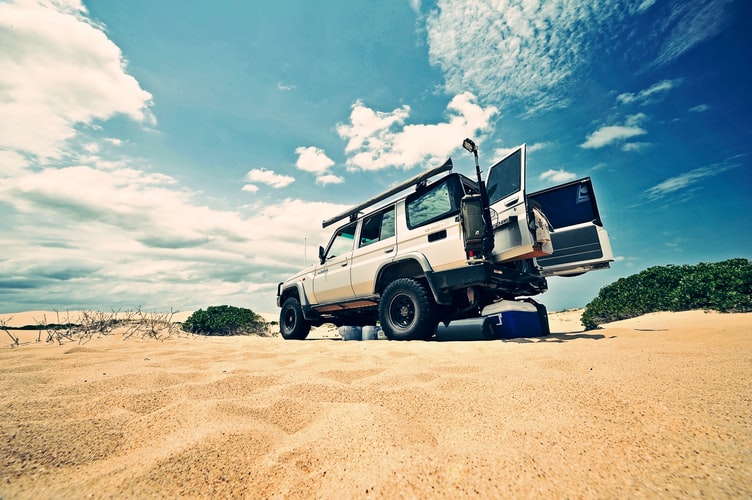 45) Always have two coolers. It is always advisable to have two coolers: one for drinks and one for frozen foods. You need to check both at the end of the day to check if there's a need to change or replenish ice.
46) Freeze water on jugs before placing them on coolers. This is one useful trick to keep water ice-cold for longer. Freeze anything that can be freeze before putting them inside the cooler.
47) Bring a tent fan. Outdoor fans are handy when you want to laze around. When it gets too hot, you want to keep yourself cool. And the beach can only do so much. After all, it is not advisable to swim in mid-afternoon because the water reflects the sunlight too.
48) Pack a rope that doubles as a clothesline. When all is said and done, you want to pack dry clothes, towels, shoes, etc. It helps to bring a rope that you can also use as a clothesline. Better yet, bring an actual clothesline.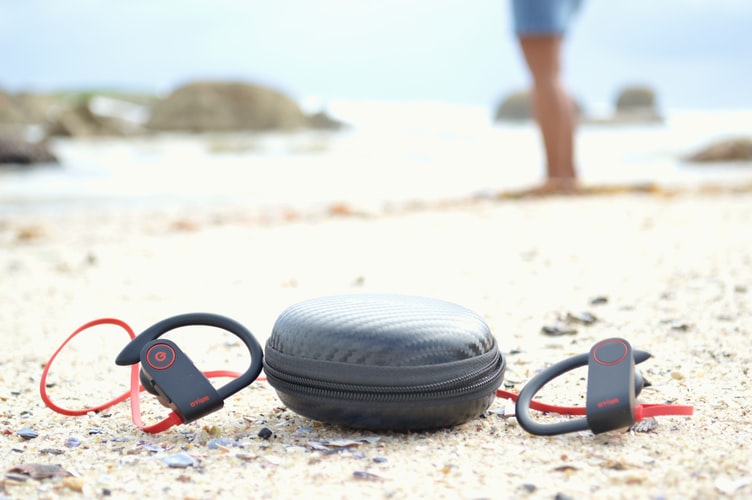 49) Secure beach toys. When we say beach toys, we refer to your gadgets. Make sure that everything is well-secured. You don't want to go home with one less valuable.
50) Bring good reads. The beach is a good place to catch up with your reading. So bring them with you. You may do this during the lull periods when you don't need anything else to do.
51) Pack a deck of cards. If not reading, you'd want some forms of entertainment. A deck of cards or board games will do. This one's a classic too. It is best played with friends and booze.
52) Stash the trash. Beaches are beautiful so you want to keep them that way. In any beach camp, you are responsible for your own garbage so…
53) Bring your own garbage bags. Always, always bring garbage bags with you. It's the least you can do.
This is an ultimate list of beach camping tips, tricks, and hacks. All you need to do is read and internalize them to make your next camping experience a cinch.